Wendy's School of Driving
Watford, Hertfordshire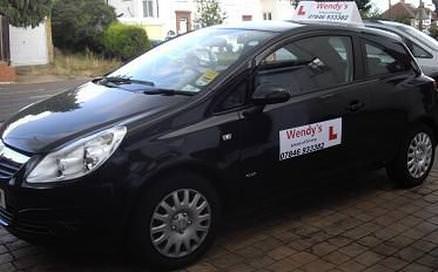 Based in Watford, Wendy's School of Driving offers a relaxed and fun environment in which to learn to drive.
Learn to drive with a patient and friendly qualified Driving Instructor.
If you don't believe it check out Wendy's link above for mare information.
Ten lessons for £199 PLUS one lesson ABSOLUTELY free, or £22 per hour!
Refresher, beginner and Pass Plus lessons offered!
Covering Watford, Bushey, Garston, Hemel Hempstead, Rickmansworth, Croxley Green, St Albans and surrounding areas and offering flexible learning times.
Learn to drive at your own pace, and pass with confidence.
With a brand new manual Vauxhall Corsa to learn in don't delay, see the contact details below.
Highlights
Female Driving Instructor

Competitive Prices
Pricing & Opening Times
1 hour £22
2 hours £40
10 hours £199 PLUS one hour free (when paying in advance)
Opening Times:
Monday - Friday: 8am to 7pm

Saturday: 8am to 5pm

Testimonials
"I was incredibly nervous about driving and didn't think I could do it. Wendy is an incredibly calm and patient teacher who I would highly recommend to anyone, especially if you are nervous about driving. Wendy will get you to pass your test!"
Fiona Young, Bushey

"Wendy is an excellent instructor, and teaches driving very well, making everything easier to understand. The lessons were really enjoyable and she helped to bring me confidence not only for the driving test but also for driving once I had passed".
Juhi Patel, Chorleywood

"Learning with Wendy was fantastic. She was very patient, understanding and easy to get along with which always made me feel at ease whilst driving. I had been told by a previous instructor that I would need around another 15-20 lessons before I was ready to book my test, but within three or four with Wendy I had booked it up and went on to pass first time a month or so later. I can't compliment her enough and would recommend anyone to learn with her!"
Gary Heywood, Bushey

"Wendy was patient and encouraging throughout the time I was learning with her. She never made me feel stupid or inadequate when I burst into tears or got upset when I made any mistakes. As I was learning before the independent driving came into force she immediately implemented a learning plan to practice this on lessons ready for the test. She provided training notes and hints for manoeuvres which really helped. She fitted in my lessons around my work commitments and was always flexible. I am 46 and had never had lessons before. With Wendy's tuition and help I managed to pass my test this week. If you are nervous and think like me you left it too late..... Don't! I would totally recommend that you book with Wendy and put your trust in her to build up your confidence and you will pass".
Tracy Lynch, Watford.

"I would highly recommend Wendy as she has a professional approach to her work and is patient and clear in her Instruction. She is experienced and knowledgeable about all the skills and manoeuvres needed to drive safely on the road and to pass the driving test".
Rachael Williams, Bushey

"Wendy is a friendly, helpful and patient instructor who gives you plenty of warning. Wendy has built my confidence up and I managed to pass both of my tests with her. Couldn't ask for a better instructor".
Colina Hodgins, Watford


Other Information
Member of Association:

Driving Instructors Association

Booking Online:

No

Number of Instructors:

1

Fleet Training:

No

Gift Vouchers:

Yes

Car Instruction:

Yes

Motorcycle Instruction:

No

HGV Training:

No

PSV Training:

No

Advanced Driver Training:

No