Priority Driving School
Stanmore, Greater London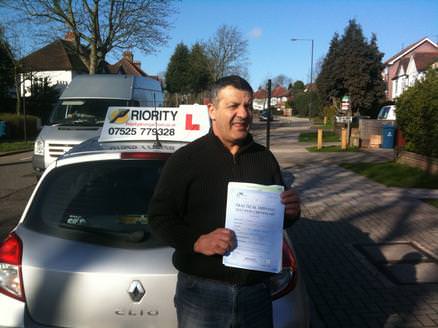 test pass
Priority Driving School comprises a dedicated team of professionally qualified Driving Standards Approved Driving Instructors.
Each is also Pass Plus registered with years of experience in the driving instructor industry.
Priority teaches driving in brand new manual transmission
dual-controlled and comfortable Vauxhall Corsas.
At Priority, we specialise in offering:
A cool, calm, polite and relaxed environment.
A reliable and trusting experience.
A very patient attitude in all circumstances.
A promise to build any pupil's confidence.
A commitment to promoting safe driving for life.
Whether a beginner, an experienced driver or one heading towards becoming a driving instructor, we take the time to explain the key details behind operating a motor vehicle safely.
Practising driving in varying road conditions under the tutelage of our friendly, experienced instructors you will learn the required combination of precautions to ensure full control of a moving vehicle at all times.
Priority appreciates that everyone learns in different ways and at different rates.
By prioritising the individual's needs, we can teach the required practical and theoretical skills needed to operate a motor vehicle, catering to your requirements, so you can get the very best teaching a British Driving School can offer.
Why Choose Priority?
We offer competitive Prices to give you the best deals around.
We will book lessons around you to suit your time and location.
We provide essential lesson reminders.
We are based in Stanmore and cover a wide range of areas.
We cater for pupils of all abilities, no matter what existing driving skills you have, if any.
We gladly welcome nervous pupils - in fact, we enjoy the challenge!
So, whether you've never sat behind a steering wheel or you wish to build upon your current skills and improve your driving dexterity, with our very high first-time pass rate, you will be our Priority.
Highlights
Special offers

24 online booking system
Pricing & Opening Times
Special offers

Recommend a friend and get a free 1 hour lesson
Block booking discounts

First 4 lessons only £60 (Beginners only)
1 Driving lesson for £20
4 Driving lessons for £76
8 Driving lessons for £150
14 Driving lessons for £250

Intensive Courses

Course length Cost
10 lessons £180.00
15 lessons £270.00
20 lessons £355.00
25 lessons £440.00
30 lessons £520.00
35 lessons £605.00

Test fee for Practical test is £62.00

The fee for Car Hire and 1.5 hour lesson before the practical test is £70.00
Opening Times:
8.00am to 9.00pm everyday 7 days a week



Testimonials
Having taken lessons with Priority Driving School and passed both my theory and practical tests on the first attempt, I have no hesitation in recommending Priority's competitively-priced services to others, particularly to those who are unsure which driving school to give their custom to in the local area as there are so many to choose from.
As an initially nervous learner driver, I was very happy that Rocky immediately put me at my ease behind the wheel and was very patient and professional in working with me on my areas of weakness to ensure that I grew in confidence and improved my driving technique as the weeks passed. Rocky also keeps his learners up to date on the latest testing procedures, providing many useful hints and tips to pass first time, as I did!
Nicholas Natale

I had driving lessons with priority driving school (Rocky) for just over a year. I immediately found that I felt very comfortable with Rocky's style of teaching. Rocky built up my confidence as a learner driver and was very patient. He found out what my weaker areas were and concentrated on these with me. Rocky ensured that the maximum time during lessons was spent on improving my skills.
I fully benefited from having a lesson just before my driving test and rocky reassured me and my nerves. We went through areas that I needed to work on and I was lucky enough to pass at my first attempt. I then went onto completing the pass plus with rocky and worked on aspects such as motorway and night time driving which have benefited me a lot. I am very grateful for all of Rocky's time with me.
Krishna Gadher

Rocky (Priority driving school) has a unique ability as a driving instructor which makes him perfect to teach any possible learner. This is the inherent calmness he has, not getting angry or panicking in dangerous situations and always willing to laugh off an incident whilst ensuring that his pupil knows they have done something wrong. All added together, this results in an instructor who makes learning to drive fun whilst ensuring real progress rapidly. I thoroughly enjoyed my time as a pupil of Rocky, looking forward to every lesson and hating it when they ended. He is a great guy and a superb instructor and I wholeheartedly recommend him to any seventeen year old wanting to learn to drive.
Gio Pilides

I've been taking driving lessons with Rocky since late last year and finally passed my driving test on the first attempt with only 4 minor faults. He was recommended to me by a friend, whom Rocky had recently trained up to test standard after he in turn had Rocky recommended by a friend. Both of them also passed first time, which I believe says something about Rocky's ability as an instructor, this combined with the price of his lessons (at least 5 pounds cheaper a lesson then my friends who were also learning to drive) should put him at the top of anyone's list who is looking to start driving. Rocky has a good, balanced approach to teaching, making sure that driving technique and every manoeuvre is practiced until the student doesn't even need to think before they perform one, whilst at the same time Rocky remains casual, friendly and un-overbearing, adapting to every student's level of skill. I would, and have recommended Rocky to everyone thinking of starting to drive and will carry on doing so until he is no longer in the business.
Alasdair Gray



Other Information
Member of Association:

Driving Instructors Association

Booking Online:

Yes

Number of Instructors:

8

Fleet Training:

No

Gift Vouchers:

No

Car Instruction:

Yes

Motorcycle Instruction:

No

HGV Training:

No

PSV Training:

No

Advanced Driver Training:

No