Stage Stars Theatre Academy
Huntingdon, Cambridgeshire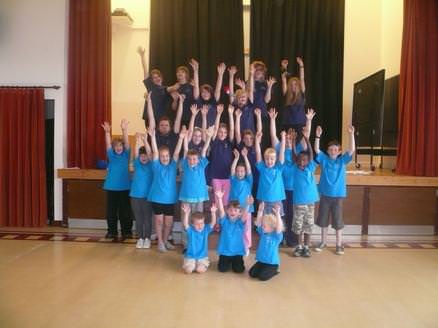 Stage Stars students
Stage Stars Theatre Academy was set up in 2008 by professional actress, singer and dancer Gemma Hodgson.
The team of teachers who work alongside Gemma include Ryan Quish (Grease - West End, We Will Rock You - West End) and Conleth Kane (UK Tour Beauty and the Beast and will be performing on Broadway in the summer of 2011).
Teachers not only have extensive professional experience allowing us to help those who wish to pursue a career in the performing arts but are also very experienced working with children, young adults and adults alike allowing even the shyest individual to shine and reach their full potential.
All our teachers are enhanced CRB checked and in the younger classes we also employ a teaching assistant to help with pastoral care.
Gemma is first aid trained and we have full insurances.
We keep class sizes small in order to allow each child to reach their full potential and develop at their own individual rate, supporting them every step of the way.
We offer classes in the following disciplines musical theatre, modern jazz, tap, lyrical, drama, singing, Zumba fitness and
Zumbatomic (ages 4-12).
We offer the chance to take examinations from the following boards
BSDA (British Stage Dance Association)
LAMDA (London Academy of Music and Dramatic Art)
Throughout the year we offer our students a range of opportunities to perform outside their classes including
The Edinburgh Fringe Festival (every two years)
Disneyland Paris IFDPA (every year)
Annual production at a professional theatre venue (The Junction - 2010 and The Key Theatre, Peterborough - 2011)
Summer schools and holiday workshops are run throughout the year where we very often get performers from the shows themselves to work with the children and create an end of week performance.
Classes are offered in several areas, please see the link above for details.
We also have a professional standard dance troupe called Atomic Fuzion, comprised of our most able students in dance and they perform regularly at local festivals, events and in competitions. This troupe rehearse in Alconbury on Sundays
Come along to a class and see how brightly your star can shine!
Highlights
The children gained a 4* review for their production of The Water Babies at The Edinburgh Fringe Festival in 2010
Pictures
Atomic Fuzion Dance Troupe
Pricing & Opening Times
Prices for individual dance classes (including zumbatomic) are between
£2.50 and £3.50 dependent on discipline and level studied

Zumba Fitness for adults
£4 per class (£3.50 for Over 60s, students and the unemployed)

Theatre Academy (includes tuition in drama, singing and dance)
£18.00 per week
Opening Times:
We run classes 7 days a week and if you have any queries the office is contactable from

Monday to Friday
9.00am - 8.00pm

Saturday
9.00am - 5.00pm

Sunday
11.00am - 6.00pm
Testimonials
Parent of a junior level student
"Exactly what we were looking for. She won't stay 90 minutes at a party but she'll quite happily stay at Stage Stars for that long"

Parent of a Little Stars student
"The professionalism and enthusiasm I experienced from both yourself, the two girls involved and also by their parents made the whole undertaking a pleasure"

Recording studio who two of our students worked professionally for
"I understand that Gemma runs a Stage School and Lydia and Emily are students. Well, all I can say is thank you Gemma for training the girls so well and thank you girls for doing such a great job and givIng up your time!"
American client of the recording studio



Other Information
Types of Dance Taught:

modern jazz, musical theatre, tap, contemporary, commercial street, Zumba fitness, Zumbatomic

RAD Registered:

No

ISTD Qualified Instructor(s):

No

NDTA Registered:

No

SOBHD Member:

No

SDTA Member:

No

UKA Qualified:

No

Adult Classes:

Yes

Childrens Classes:

Yes

Minimum Age:

3
Map & Directions
Please see link above for teaching venues.