FreeSteppin' Dance Studio
Milton Keynes, Buckinghamshire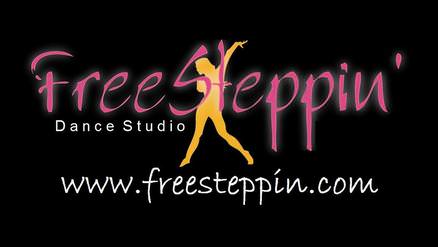 Specialising in Competitive FreeStyle & Hip Hop.
FreeStyle is a popular, versatile and creative form of dancing incorporating many different elements of other dance styles such as Ballet, Hip Hop, Jazz, Rhythmic Gymnastics, Rock'n'Roll and many more...
FreeStyle is a very fast, yet controlled discipline of dance which is in tune with the current style of 'club music'.
It encompasses speed, agility, suppleness and strength.
FreeSteppin' Dance Studio also competes regulary in competitions all over the country competing in fast freestyle, solos, pairs, slow dance, street dance, teams, Rock'n'Roll and more.
Classes available - Diddy Dancers, Junior FreeStyle, Hip Hop & FreeSteppin' Fitness.
Contact Teri for more details.
Children 3 years upwards welcome.
First Lesson FREE !!
Highlights
Funky, Fresh, Fun, Fast and full of energy = FreeSteppin' Dance Studio
Pricing & Opening Times
30 minute classes = £3
90 minute classes = £6
Private Tuition Lessons = £9 per half hour
Opening Times:
Classes every Saturday at Oakgrove Lesiure Centre, Middleton, MK10

11:30 - Diddy Dancers (3-5 yrs)
12:00 - Junior FreeStyle (6-11 yrs)
12:30 - Hip Hop (All Ages)
13:00 - FreeSteppin' Fitness (All Ages)

Classes every Tuesday at Scott Hall Community Centre, Barford Ave, Bedford, MK42

17:30 - Diddy Dancers (3-5 yrs)
18:00 - Junior FreeStyle (6-11 yrs)
18:30 - FreeSteppin' Fitness (All Ages)
20:00 - Hip Hop (All Ages)
Other Information
Types of Dance Taught:

FreeStyle, HipHop, Slow, Street, Rock'n'Roll & more...

RAD Registered:

No

ISTD Qualified Instructor(s):

No

NDTA Registered:

No

SOBHD Member:

No

SDTA Member:

No

UKA Qualified:

No

Adult Classes:

No

Childrens Classes:

Yes

Minimum Age:

3 years upwards
Map & Directions
Oakgrove Leisure Centre, Venturer Gate, Middleton, Milton Keynes, MK10 9EA

Scott Hall Community Centre, Barford Avenue, Bedford, MK42 0DK