Mary Drake School of Irish Dancing
Milton Keynes, Buckinghamshire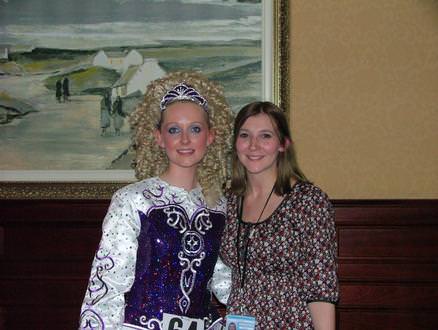 Claire Bunker with one of her dancers, Vicki
If you would like your child to learn a new skill, keep fit and have fun, then why not give Irish Dancing a try.
You can book their FREE trial lesson by contacting us on the number or email address below. There is no obligation.
The Mary Drake School of Irish Dancing is run by Claire Bunker T.C.R.G. but it was named after her Nana who had always encouraged her to learn Irish Dancing.
Claire started dancing at the age of four and wanted to be a teacher from her early teens - an ambition realised in January 2006.
Claire is a T.C.R.G. which stands for "Teagascoir An Comhdhail le Rince Gaelacha", which roughly translates into English as Congress Certified Irish Dancing Teacher.
She teaches children from the age of four who are just starting to learn Irish dancing up to experienced senior Irish dancers at Open standard.
Parents are welcome at class and some of our parents are learning to dance alongside their children..
For older children and young adults, it is a great way to keep fit and improve stamina too.
We are based in Milton Keynes and we are affiliated to An Comhdhail Na Muinteoiri Le Rinci Gaelacha.
Lessons are held on Monday and Tuesday evenings in Stantonbury and Saturday mornings in Great Linford.
Pupils will learn reels, jigs and hornpipes, as well as traditional set dances and will be encouraged to take part in competitions and feiseanna.
Pricing & Opening Times
£4.50 per lesson (average 2 hours).
Family discounts offered.
Pay weekly.
Opening Times:
Monday classes in Stantonbury, Milton Keynes 6pm to 8pm
Tuesday classes in Stantonbury, Milton Keynes 6pm to 8.30pm
Saturday classes in Great Linford, Milton Keynes 10am to 12.30pm
Other Information
Types of Dance Taught:

Irish Dancing

RAD Registered:

No

ISTD Qualified Instructor(s):

No

NDTA Registered:

No

SOBHD Member:

No

SDTA Member:

No

UKA Qualified:

No

Adult Classes:

Yes

Childrens Classes:

Yes

Minimum Age:

4
Map & Directions
Stantonbury is situated at the north of Milton Keynes, just 4 miles from Junction 14 of the M1.
Follow the A422 H3 to Stantonbury roundabout and turn towards Stantonbury Campus.
Take the first right into the Campus
Turn left at the roundabout,
Then immediately right into the car park.
The Christ Church Hall is on your left.