Henley Bank Kennels
Gloucester, Gloucestershire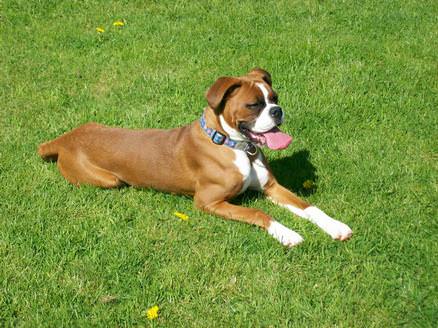 Neil Smith has run Henley Bank Kennels since April 1999 and has been thoroughly committed to ensuring that all the animals boarded receive professional care.
He has now built up a dedicated and experienced staff who provide a safe caring and healthy environment in which to leave your pets whilst you are away.
The kennels have been established for over 50 years and were purpose built to include an individual run attached to all the bedroom areas.
There is a hatch doorway separating the bedroom from the run and in the winter months this can be closed and the heating will ensure the bedroom areas remain warm.
In the summer months the hatch doors are left open.
There are secure grass paddocks and all dogs are lead down to these areas and allowed off the lead to run around and exercise.
We do not exercise dogs together unless they are boarded together.
Our prices include food and we are happy to feed once or twice a day depending on the individual dogs routine.
If you wish to provide your own food we will happily keep your dog on the food and routine he/she is used to.
We also are happy to administer any medication the dog may be on, and this can include diabetic injections should this be necessary.
A small additional charge of £5.00 per dog per week is made for this service.
Whilst we do not run a grooming service one of our staff is happy to arrange for grooming which she does in her own time after the kennels are shut.
We do not collect or deliver dogs but work closely with a Pet Taxi service if you are unable to bring your dogs yourself.
We like new customers to arrange to come and view the kennels prior to their first visit when we can answer any further queries they may have.
Pricing & Opening Times
Small dogs £9.00 per day

Larger dogs £10.00 per day
Opening Times:
Mon - Fri 9.00am - 5.00pm
Other Information
Run:

Indoor

Quarantine:

No

Number of Dogs:

50

Special Needs:

Health

Daily Exercise Regime:

All kennels have covered runs attached and dogs are exercised 2-3 times in a grass paddock individually

Collection & Drop Off:

No

Grooming:

No
Map & Directions
The kennels are situated opposite Brockworth Enterprise school in Mill Lane.
Mill Lane is accessed from the A46 Shurdington Road on the left if travelling towards Cheltenham and on the right if travelling towards Stroud.
Look for the turn between the Cross Hands roundabout and the roundabout above the A417 dual carriageway.