Kiddington Kindergarten
Kiddington, Oxfordshire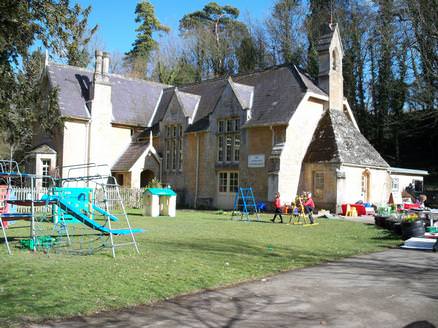 A beautiful building in a wonderful location
Welcome to Kiddington Kindergarten, Nursery School.
Kiddington Kindergarten is an independent nursery school situated in the most beautiful Cotswold countryside. The nursery accommodates pre-school children from two to five years of age in the old village primary school. It is about four miles north of Woodstock and within easy reach of Charlbury, Combe, Enstone and Oxford.
Kiddington Kindergarten is a unique and special setting. All our visitors "fall in love" with the nursery. Some parents travel many miles but they all say it is worth the journey.
In this idyllic setting, our experienced staff of teachers and nursery nurses are totally committed to planning and providing learning opportunities through the medium of play. Play underpins the whole curriculum and is central to the teaching and learning ethos of the nursery.
We have a large garden and children have access to this in all weathers. Staff ensure that the activities on offer, both outside and inside are well planned and provide a rich learning environment which covers all the areas of the Early Years Foundation Stage.
When children are ready, they begin to experiment with phonics and most are familiar with letter sounds and recognise letter shapes. Some children are competent readers by the time they leave.
We have an excellent Music Specialist who comes to the nursery each week. Children enjoy using instruments and singing and begin to develop an understanding of rhythm and sound patterns.
Highlights
Situated in the most beautiful Cotswold countryside.

Children have access to our large garden.
Pictures
Cooking is always a favourite choice

The garden provides endless challenges and le

Imaginative play develops creativity.

The children plant flowers and vegetable
Pricing & Opening Times
Please see brochure on our website.
Opening Times:
Term Times
Monday and Friday 9.30 to 12.30
Tuesday, Wednesday and Thursday 9.30 to 2.45
Testimonials
"Kiddington Kindergarten has offered my three sons a safe and loving environment for learning spanning the last eight years. The staff are positive and motivating. This has helped the boys grow into relaxed and secure children. Each day is packed with fun and they make the most of their surroundings both indoors and out."

For more testimonials please see Parents Comments on our website.


Other Information
Eligible for Nursery Education Grants:

Yes

Snacks Provided:

Yes

Lunch Provided:

No

Special Needs:

Yes

Min Age:

2 Years

Max Age:

5 Years

After School Care:

No

Number of Children per carer:

4

Number of Employees:

5

Enclosed Outdoor Play Area:

Yes