Willow Cottage Nursery
Oxford, Oxfordshire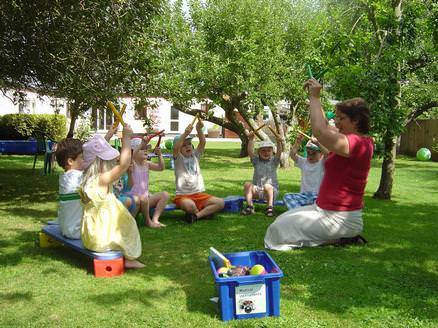 music time in the garden
We are family run and enjoy a longstanding reputation for the high
standards that our children achieve, particularly in preschool reading and writing. We offer specialist teaching in Foundation Stage and developmental music and introduce early Spanish and French for fun!
Our settings are spacious and purpose built in beautiful open
countryside, with outstanding garden facilities. We specialise in the care of babies and toddlers. We do not use agency staff.
We are passionate about healthy eating knowing how this can
influence future life patterns; indeed we have a National Nursery Food Award for our healthy and wholesome home-made meals.
We select the highest quality ingredients and using home grown,
local and organic produce, whenever possible. We have our own allotments and orchards.
Our children's menu is meticulously planed, to include fish, meat
and vegetarian options. Low salt, low sugar, and lots of fibre!
Afternoon teas are accompanied by a wide variety of fruits and
provide the children with at least 5-A-DAY!
We specialise in meals for our babies and toddlers still on weaning
programmes, preparing a wide variety of vegetable combinations and
bakes. Our meat is traditionally farmed, selected for extra
leanness, and is additive and hormone free.
We have been named runner up in the National Nursery Food Awards 2007. An award to celebrate nutritious menus- organic and local ingredients- home-cooked foods-great tasting meals-food education -inspiring nursery staff-excellent food policies.
Highlights
We hold National Food awards for healthy eating.

Delivering the highest quality childcare & a pre-school education of excellence for 25 years.
Pictures
learning about healthy food

specialising in young babies and toddlers

"learning to read" starts early!

passionate about healthy eating
Pricing & Opening Times
Over 2yrs Up to 2yrs
FIVE DAYS PER WEEK £851.55 £936.71 per month
FOUR DAYS PER WEEK £686.70 £755.37 per month
THREE DAYS PER WEEK £515.55 £567.11 per month
TWO DAYS PER WEEK £343.35 £377.69 per month

Full day cover is based upon a nine-hour day
In order to offer continuity to our children our minimum programme is normally two days per week (subject to availability). Extra days are charged at £43.00 (£46 under 2). Extra hours are charged at £5.00 (£5.50 under 2). Our fees are subject to an annual review on the 1st April each year.



Opening Times:
7.40am - 5.45pm.

Testimonials
"Your staff are wonderful they strive tirelessly for the children, nothing seems too much trouble for them!"

"From the Head Teacher to the gardeners and wonderful cook, we thank you all for such a professional and reliable and happy service"

"We just knew this was the place for our child…… the minute we stepped in ….the atmosphere was so lovely…lots of happy smiling children who were really interested in the things that they were doing and playing beautifully together."





Other Information
Eligible for Nursery Education Grants:

Yes

Snacks Provided:

Yes

Lunch Provided:

Yes

Special Needs:

Yes

Min Age:

Birth

Max Age:

5 Years

After School Care:

No

Number of Children per carer:

3

Number of Employees:

Over 10

Enclosed Outdoor Play Area:

Yes
Contact This Business
Use the buttons below to contact this business: