Simon Turner
Caterham, Surrey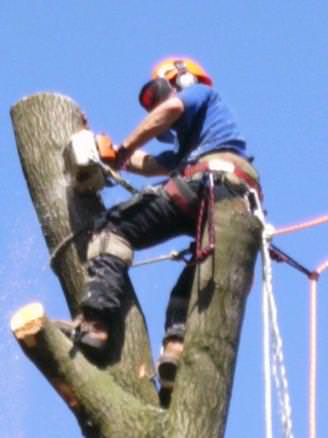 We are a well established company, who can undertake all aspects of tree surgery.
The whole team are fully qualified and insured and aim for 100% customer satisfaction.
We take pride in our work and our knowledge of trees etc is of utmost importance therefore ensuring that the correct action is taken.
We have many years experience providing Tree Surgery to the Underground, Network Rail services National Grid and the Highways as well as working with local authorities on roadside vegetation clearance and maintenance projects.
We are Approved for ground clearance on Network Rail and we also have ISO 9001 and ISO 14001 Accreditation as well as being a registered SafeContractor.
All our employees are highly trained with NPTC Certificates in all sectors and we have an ongoing training programme to ensure updates and re-certs are regularly maintained.
Pictures
Storm damaged
Testimonials
Felling of large conifer
I was very pleased with the way they carried out their work and their courteous manner, just what I would of hoped for in a Check a Trade member.
Customer in Coulsdon, 4 October 2010 business

SJT Trackforce Limited
Reduction of hedge.
Fantastic experience from quote to completion. Clearly explained alternative options for the work and the benefits/impact of each choice. Worked tidily, clearing as the went along and completed in the time agreed. Finally, they gave guidance for future maintenance which was useful and informative. I would recommend Simon and his team without hesitation.
Customer in Caterham, 22 September 2010 business

SJT Trackforce Limited
Reduction of tree.
Excellent in all aspects. I definitely recommend SJT Trackforce Ltd.
Customer in London, 6 September 2010 business

SJT Trackforce Limited
Good time keeping, professional and friendly service. Would definitely recommend. Value for money.
Customer in Croydon, 18 August 2010 business

SJT Trackforce Limited
Tree surgery Scores: 10 Tidiness: 10 out of 10 10Timekeeping: 10 out of 10 10Courtesy: 10 out of 10 10 Workmanship: 10 out of 10
10 Combined score: 10 out of 10
Great job, professional, experienced and the work was carried out with great care to surroundings. Thank you.
Customer in Coulsdon, 14 June 2010 business

SJT Trackforce Limited
Felling and removal of a row of fir trees Scores: 10 Tidiness: 10 out of 10 10 Timekeeping: 10 out of 10 10 Courtesy: 10 out of 10 10 Workmanship: 10 out of 10
10 Combined score: 10 out of 10
Nice guys who carried out the work thoughtfully and professionally and cleaned up well afterwards. The fee was very reasonable and I would wholeheartedly recommend them.
Customer in Oxted, 2 June 2010 business

SJT Trackforce Limited
Removal of eucalyptus tree. Scores: 10 Tidiness: 10 out of 10 10 Timekeeping: 10 out of 10 10 Courtesy: 10 out of 10 10 Workmanship: 10 out of 10
10 Combined score: 10 out of 10
1010
SJT Trackforce arrived in schedule and were fast, efficient and tidy in undertaking the job. Garden left looking like there had never been a tree there at all. Nice friendly and polite worker too.I would recommend this company.
Customer in Redhill, 27 May 2010 business


Other Information
NPTC Qualified:

Yes

Felling & Removal:

Yes

Thinning & Pruning:

Yes

Stump Grinding & Removal:

Yes

Hedge Work:

Yes

Wood Chipping:

Yes

Emergency Call Out:

Yes