British Tree Services
Maidenhead, Berkshire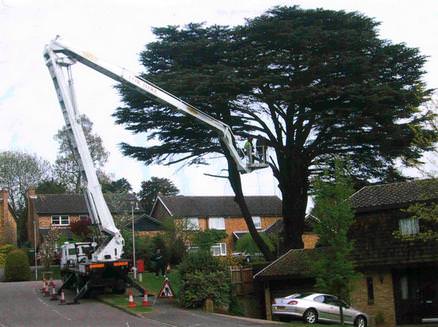 Tree Surgery using an Elevated Work Platform
British Tree Services are based in the Thames Valley and surrounding counties and has been caring for trees since 1954.
We have an established reputation as dedicated professionals in both the Private and Public sectors.
Our tree surgery teams consistently work to the highest of standards and are available 24 hours a day for emergencies.
Strictest confidence is maintained at all times.
Our services include:
Tree reports for mortgages and insurance purposes.
Specialist tree surgery.
Planting and landscape design.
Dangerous tree removal (precise piecemeal felling in confined spaces).
Tree disorder identification (laboratory analysis available).
Tree root identification (with laboratory analysis available) for building damage disputes.
Botany, planting and landscape design and construction.
We undertake estate management.
Development site care.
Commercial contracts.
Garden restoration.
Planting.
Removal of tree/plant intrusions into buildings.
Topographical Surveys for:
Planning consent applications.
Boundary clarifications.
Specialist machinery available, covering Arboricultural needs, i.e. stump grinders, chippers, mobile elevated work platforms
We would be pleased to inspect your trees and advise you on the best course of action.
High region inspections are carried out as necessary.
Photographic evidence can be made available.
We have had the honour to work with distinguished scientists, namely Dr I. Richardson (originally from Kew Gardens), Mr D. Patch (From the Arboricultural Advisory and Information Service) and the late Alan F. Mitchell (Founder of the Tree Register of the British Isles).
Member of:
International Society of Arboriculture
The Guild of Master Craftsmen
Reputable Societies & Associations
Subscriber to:
Arboricultural Advisory and Information Service
Local Authority Approved
All works carried out to British Standards
Fully covered with professional indemnity and public liability insurances
BTS has had the privilege of working on trees in many amazing locations over the decades.
Where others have given up, we have saved many wonderful specimens.
These are just a few of our tree projects of an almost endless list:
Magna Carter Island in conjunction with the Queen's River Trip
Dropmore 220 acre estate
Stoke Poges Manor House grounds, where King Charles 1 was imprisoned before his execution.
The grounds of Stoke Poges Church. (Mentioned in the Doomsday Book in 1086)
Highlights
Environmentally Conscious

Established and Caring for Trees since 1954
Pictures
Tree Surgeon High Level Work

High Level Confined Space Tree Surgery
Other Information
NPTC Qualified:

Yes

Felling & Removal:

Yes

Thinning & Pruning:

Yes

Stump Grinding & Removal:

Yes

Hedge Work:

Yes

Wood Chipping:

Yes

Emergency Call Out:

Yes