Weston Favell School of Motoring
Northampton, Northamptonshire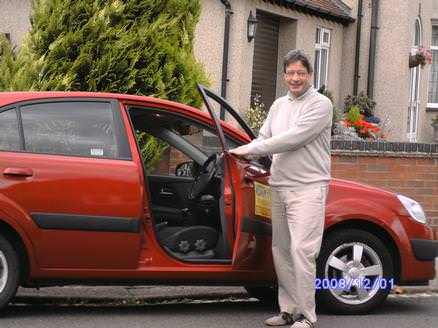 Weston Favell School of Motoring/Welcome
Weston Favell School of Motoring provides driving lessons to customers based in Northampton and the surrounding villages.
It delivers quality tuition at affordable prices and prides itself on "customer care" with lessons tailored to individual needs - so no "passengers" in the car and no "talking on the phone" while teaching (the mobile is "off" while the car is on the road and there's no bluetooth headset anywhere in sight).
With a roomy, comfortable car (Kia Rio LX with leather trim, air-conditioning, electric mirrors,etc) and patient local instructor with accredited counselling and listening skills, plus an excellent knowledge of the Northampton road network and local roundabouts.
With fully-qualified Approved Driving Instructor (ADI) with Pass Plus accreditation, Weston Favell School of Motoring delivers good quality tuition at an affordable price for all (Instructor also has the Certificate of Higher Education in Counselling from the University of Leicester since 2008).
Specialities include a detailed "scientific" approach to the test manoeuvres using carefully chosen focal-points, and a detailed knowledge of the Northampton test routes including the "independent driving" sections - this latter kept up to date through frequent accompaniment of customers' actual tests (with permission of course).
Weston Favell School of Motoring has taught a diverse range of clients, aged from 17 to 57 and from Africa, India, and China, as well as the UK.
Weston Favell School of Motoring is managed by Adam Pope, who was educated at the HMS Conway Naval Academy and has a background in both the Merchant Navy (deck officer) and the IT industry (project leader), in addition to his experience as a Northampton driving instructor.
Pictures
Weston Favell School of Motoring/Kia Rio LX

Weston Favell School of Motoring/Adam PopeADI

Weston Favell School of Motoring/Check Mirror

Weston Favell School of Motoring/On the Road
Pricing & Opening Times
new customers(1hr):£10
one hours tuition: £20
six hours tuition: £110
ten hours tuition: £180
pass plus module: £140


Opening Times:
Tuesday - Friday 08:30-19:30
Saturdays from 09:30-17:30
Sunday mornings 09:30-13:30
[normally closed on Mondays]
Testimonials
"Brilliant! Just want to say thanks again for all your hard work and for getting me through my test,I appreciate it a lot"
(Dean,23,from Duston, passed Northampton 21st June 2011 with just one minor fault).


Other Information
Member of Association:

None

Booking Online:

No

Number of Instructors:

1

Fleet Training:

No

Gift Vouchers:

No

Car Instruction:

Yes

Motorcycle Instruction:

No

HGV Training:

No

PSV Training:

No

Advanced Driver Training:

Yes
Map & Directions
The driving school comes to you with pick-up and drop-off anywhere within ten miles of Northampton (or further by special arrangement).