Lisas Learners
Kettering, Northamptonshire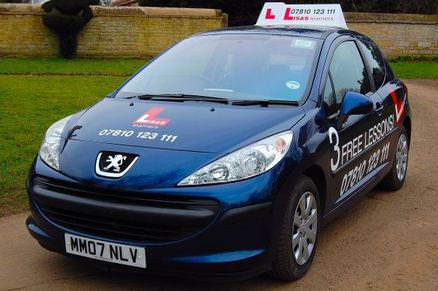 Lisa's Learners offer Friendly, Patient and Fun teaching, encouraging Safe Driving for Life.
With door to door service for convenience, flexible lesson times, picking up from school, college or work.
Specialist in teaching nervous drivers
ADI registered and enhanced CRB checked
Block booking discount
Gift Vouchers available
Flexible lesson duration 1 hour 1.5 hour and 2 hour lessons
Help with Theory test
Pass plus
Intensive courses also available
Many students ask how many lessons will I need? Overall it is down to each candidate's ability as to how quickly they adapt to the training given by the instructor.
Lisa's Learners Guarantee to give only the required number of lessons necessary for each pupil.
Lessons available are:
1 hour
1.5 hour
2 hour
Intensive courses are available.
We will assess your driving abilities in a 2 hour lesson, then we will tailor an intensive course to suit your needs.
The DSA advises that the average pupil will take approx 45 hours of professional training and 22 hours of private practice.
Have a full licence but have not driven for a while?
Nervous about driving on Motorways?
Perhaps you have lived abroad for some time and need help with adjusting to the UK traffic system.
Lisa's Learners can offer refresher courses for nervous drivers.
Driving Assessment
An assessment lesson is not an admission that there is something wrong with your driving style. See it as a step taken by good drivers who wish to know how they may improve.
We will cover a variety of road types (town, country, dual carriageway) and during the lesson your driving technique will be assessed for efficiency and safety.
Ideally you will demonstrate good co-ordination with the controls of the vehicle.
Sufficient effective observations to recognise hazards in advance, appropriate speed control and anticipation of the movement of other road users.
Your indications and positioning at junctions will be correct and throughout the session you will maintain a courteous attitude towards others, even if they do not extend the same level of courtesy to you.
Pass Plus
Statistics show that new drivers are more likely to have an accident in the first two years of passing their test due to a lack of driving experience - this is where Pass Plus comes in! The course aims to build upon your newly acquired driving skills and knowledge. What is Pass Plus?
Pass Plus is a training course specifically aimed at new drivers, designed by the Driving Standards Agency (DSA) with the help of insurers and the driving instruction industry.
Pass Plus will build upon your existing skills and knowledge, it will teach you how to anticipate, plan for and deal with all kinds of hazards, and can help you to become more confident on the roads.
Highlights
Female Instructor

High First time pass rate
Pricing & Opening Times
Opening Times:
9.00am - 3.30pm
Other Information
Member of Association:

None

Booking Online:

No

Number of Instructors:

1

Fleet Training:

No

Gift Vouchers:

Yes

Car Instruction:

Yes

Motorcycle Instruction:

No

HGV Training:

No

PSV Training:

No

Advanced Driver Training:

No