Vicarage Farm Cattery
Rugby, Northamptonshire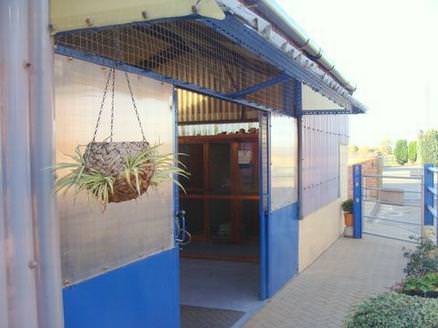 The cattery is situated in a rural location and has been established for 14 years now. With effect from February 2010 the cattery is under new management.
Michelle Morgan is the new Manager of Vicarage Farm Cattery and her love of cats shines through in every detail.
Michelle has always lived in a cat loving household and has three cats of her own and is very experienced with handling and looking after her furry friends.
Michelle makes sure each cat is given time for individual care and attention to ensure they all have an enjoyable stay with us.
The pens are made ready for each new visitor not only by making sure everything is lovely and clean but then tailored to the needs of the new resident.
Some of our elderly visitors cannot jump up on the sleep shelf so they have a special low bed put in place or for the more nimble a stool to help them make the climb. Youngsters, of course, make the leap easily to bed.
We have a variety of pens suitable for not only singles but two or multiple cat families.
We offer a clean, safe and loving place for your cats to stay, offering you peace of mind when you have your holidays or business trips.
We also have on site CCTV and night time checks to make sure your cats are snug and safe.
Inspection welcome.
Highlights
Individual attention whether in prime health, disabled, elderly or still a kitten at heart

CCTV and Night time checks to ensure your cats and safe and snug
Pricing & Opening Times
1 Cat £7.25
2 Cats sharing £10.50
3 Cats sharing £13.50
4 Cats sharing £15.50
5 Cats sharing £17.50
Opening Times:
Mon - Fri 8:30am - 10:30am / 4:30pm - 6:00pm
Saturday 8:30am - 10:30am / Closed
Sunday 9:00am - 10:00am / Closed

If you find these times difficult, Michelle is happy to greet you at a time to suit you, providing she has the notice at the time of booking.

To view the cattery give us a ring to let us know you will be coming and we can then give you full attention and answer your questions when you visit.
Testimonials
"Thomas obviously enjoys staying at Vicarage Farm - he is often reluctant to come home and hides in his bed when I go to collect him! Katie and the team work hard to look after your cats and are flexible to their needs."
From Thomas W

"We have boarded our cats for many years at Vicarage Farm Cattery. This year following treatment and recuperation, although still a little fragile, our cat Lucy was boarded there. Two weeks later she returned to us in full health, thanks to Katie and the staff.
We go on holiday knowing our pet is receiving the best care possible."
From Lucy K

"My cat William and I have been clients of Vicarage Farm Cattery since 2003. Straight away, we were impressed and reassured by the caring attitude of the then proprietor. Since new owners Ruth and her family took over in 2007, some welcome improvements have been made to the infrastructure but most important has been the continuity in the caring and professionalism of all the staff and especially - William has asked me to add - that of Cattery Manager Katie Wright. William and I hope to enjoy the services of Vicarage Farm Cattery for many years to come and we have already recommended it to several of our friends."
From William K

"My two cats Paddy and Rosie have stayed at Vicarage Farm Cattery on and off for the last seven years. Katie makes you feel at ease about leaving your cats in her care, as she genuinely cares about them. The pens are warm, comfortable and very clean.
I wouldn't hesitate to recommend Vicarage Farm Cattery!"
From Paddy & Rosie M

"With all my dealings with Vicarage Farm Cattery I have found them to be most helpful and understanding, not only for me but for me too. Being a new cat owner I was quite worried about leaving Max for someone else to look after her, she was fine, well looked after and quite content when we collected her.
I found the premises were clean, light and 'pong free' and the staff were kind and caring (even when I rang halfway through my holidays to see how Max was!). Vicarage Farm is now Max's Butlins!!"
From Max S



Other Information
Heated Pens:

All

Run:

Indoor

Multi-Cat Pens Available:

Yes

Special Needs:

Various

Dog Kennels On Site:

No

Food Provided:

Yes

Number of Pens:

42

Number of Cats Accommodated:

95

Quarantine:

Yes

Long Stays:

Yes
Map & Directions
We are located just outside the village of Church Lawford which is between Rugby and Leamington Spa in Warwickshire.
Post Code: CV23 9HB
Using SatNav will guide you here but will not let you know when you have reached your destination.
Please go to our link above and click on the Map Link to help you.