Irchester Cattery
Wellingborough, Northamptonshire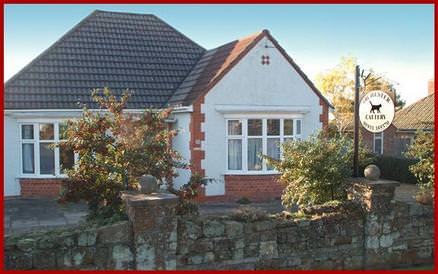 Front entrance
Irchester Cattery is a well established family run business licensed by Wellingborough borough council.
We only cater for cats - no dogs or other animals are boarded at Irchester Cattery.
The day-to-day running of the cattery is carried out by proprietors Dee & Keith Jaynes, both life long cat lovers and owners.
Between them there is always plenty of time to give our guests as much time and attention as their own pet moggie and cattery consultant Jasper.
After checking the all important inoculation certificates all cats are supplied with a clean fresh bed on arrival which is changed regularly.
We also actively encourage owners to bring along their cat's own bedding, toys, scratchposts etc; to help him or her feel more at home.
Litter trays, food and water are all changed twice a day.
At Irchester we stock an extensive range of branded wet and dry food so that individual diets can usually be catered for, trying to feed as close to their home diets as possible.
Any prescribed medical treatment can usually be continued during your cats stay, full written instructions including dosage, frequency etc; will need to be left with the cat.
All accommodation is to F.A.B standard, full height, penthouse style, fully insulated and individually heated sleeping quarters, that are also lined with white boards for maximum hygiene and a separate exercise area.
A choice of chalets are available, from singles right up to family size that will comfortably house up to 4 cats from the same family.
All our chalets enjoy the sun at some part of the day and fresh air (weather permitting).
All have an outside view, most of either our garden or open fields.
Each chalet also has an elevated position for your cat to lie or sit and watch the world go by.
Pictures
Food preperation area

Cattery building

Reception

Typical chalet
Pricing & Opening Times
Single cat ... £8.00 per day
2 cats sharing . £13.00 per day
3 cats sharing . £17.00 per day
Opening Times:
Mon, Tues, Thurs, Fri, Sat ... 9am - 12pm & 4pm - 6pm
Sun .......................... 9am - 10am & 5pm - 6pm
Wed .......................... Closed
Other Information
Heated Pens:

All

Run:

Indoor

Multi-Cat Pens Available:

Yes

Special Needs:

Various

Dog Kennels On Site:

No

Food Provided:

Yes

Number of Pens:

50

Number of Cats Accommodated:

107

Quarantine:

No

Long Stays:

Yes
Map & Directions
Travel from Wellingborough to Irchester ( The B570 ) go past the Irchester Country Park on your left.
About half a mile past the park, we are located on the right hand side of the road just as you are entering the village.