Child First Nursery Moulton
Northampton, Northamptonshire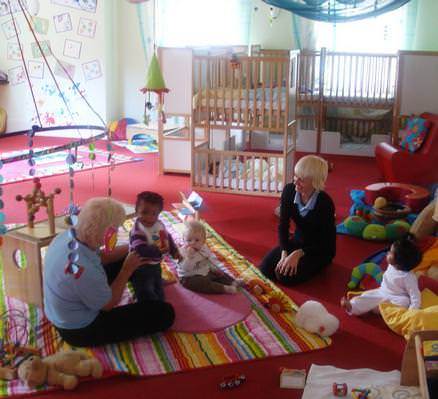 The baby studio
Set in an enclosed 3 acre garden and woodlands, Child First Moulton is an exceptional place for children to learn in the most exciting and creative settings.
With access to the outdoors almost all of the time (with warm, protective clothing provided) the children can investigate, build, cook, explore, grow, harvest, water, run, jump and so much more.
And in the amazing Georgian Building the freeflow approach provides a real opportunity for the children not to be hampered by routines - but to follow their own ambitions in the kitchen, the rest space, the sensory rooms, the creative spaces, and there own role play spaces.
Indoors and out are guided by a team of professional staff who really have changed over the last year and the nursery has gone from strength to strength.
And our parents are welcome as well, with both classes and activities to join in as well as the opportunity to work while settling in with wireless access and coffee on tap.
Highlights
Changing childcare from acceptable to exceptional

A real example of Narures Nursery in the heart of Northampton
Pictures
Challenging opportunites

Our nursery in 3 acres

Natures Nursery in action

Growing our own organic food
Pricing & Opening Times
We have made our pricing structure as simple as possible with no hidden extras. There is a discount for 2nd and subsequent children attending the nursery.
Registration fee non-refundable £50
Per Week full-time 8:00am - 6:00pm, five days a week. £168.00
Daily Rate 8:00am - 6:00pm £39.50
Mornings 8:00am - 13:00pm £22.00
Afternoons 13:00pm - 18:00pm £20.50
Additional Hours £6.35

As a workplace nursery there are often benefits for employers and their employees.

Nursery Education available

Childcare assistance form employers, including vouchers, accepted.
Opening Times:
Monday to Friday to suit the needs and requirements of parents and carers
Other Information
Eligible for Nursery Education Grants:

Yes

Snacks Provided:

Yes

Lunch Provided:

Yes

Special Needs:

Yes

Min Age:

Birth

Max Age:

5 Years

After School Care:

No

Number of Children per carer:

4

Number of Employees:

Over 10

Enclosed Outdoor Play Area:

Yes
Map & Directions
Close to Moulton Park Business Park and only seconds away from the A43 ring road.