St. Clare's School
Porthcawl, South Wales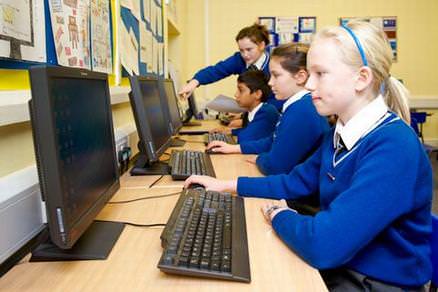 St Clare's School - Excellent IT facilities
St. Clare's is a co-educational, non-selective day school for children aged 2 ½ - 18 years. Established in 1938, the school stands in its own magnificent grounds, in the picturesque village of Newton, near Porthcawl.
St. Clare's is a happy, caring school with a strong sense of community. Each pupil is unique and the school aims to help every individual to develop to his or her full potential. The person who is a little different from the crowd will be able to flourish; the bright will be challenged. The school is demanding and tolerant, challenging and gentle. It is our job to discover and nurture each pupil's ability.
The school believes in the education of the whole child. We encourage our pupils to have good moral values, develop high self-esteem, and a concern and respect for others and the world around them. Success in music, the arts and extra-curricular activities is equally as important as academic success.
Educational visits and recreational excursions are an important part of school life and these include theatre outings, visits to educational centres and museums, field trips to local sites, those further afield and also abroad.
We are proud of our academic achievements - the school celebrated a 100% A Level pass rate in 2009. The number of pupils receiving A - C grades was an astounding 94.2% with over 75% of pupils receiving A - B grades. Pupils did particularly well at French and Spanish with each subject receiving an impressive full complement of A grades.
Just a week after a record year 100% A Level pass rate was announced; pupils from St Clare's have achieved an exemplary 100% pass rate at GCSE as well. A highly commendable 96% of pupils achieved 5 or more GCSE pass grades at A* - C and nearly half of the overall grades were at A* / A.
Highlights
Academic achievement - GCSE's and A Level

Excellent extra-curricular opportunities
Pictures
St Clare's School Porthcawl Nursery

St Clare's School Porthcawl

100% GSCE Pass Rate (09) St Clare's

Excellent A Level results at St Clare's (09)
Other Information
Pupil Gender:

Mixed

Day / Boarding:

Day

Religious Affiliation:

Unaffiliated

Age Range:

2.5 - 18years

Curriculum(s) Followed:
Specialisms:
Admission Policy:
Scholarships:
Facilities:
Number of Pupils:
Map & Directions
The school is in Newton, Porthcawl.
From the M4 junction 37, follow the A4229 towards Porthcawl: Go past the Grove Golf Club and at the roundabout turn left onto the Newton Nottage Road (A4106)signposted 'Trecco Bay'. Watch the speed camera! At the next roundabout turn right and then an immediate left and immediate right to the entrance of the school.