Beauty of Bedford
Bedford, Bedfordshire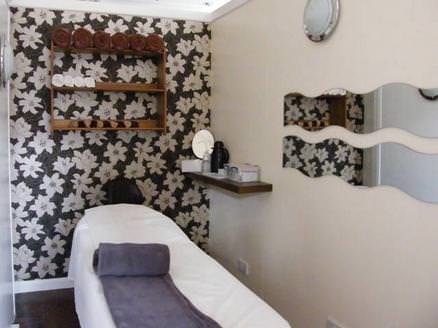 One of our 5 salon treatment rooms.
The Team at Beauty of Bedford would like to welcome you to a truly indulgent experience.
We offer treatments for both men and women in a very professional, yet relaxed and friendly atmosphere where therapists are fully knowledgeable and approachable.
Established in 2004, we are a family run business and pride ourselves in offering carefully selected and personally tested treatments, which allow you to not only see but also feel the difference they make.
Beauty of Bedford offers a variety of treatments to suit a wide spectrum of society.
Remember, beauty is not simply about how you look but more importantly about how it makes you feel.
Enjoy your Beauty of Bedford experience - one of the leading salons in Bedford, Bedfordshire.
As well as these specialist treatments we also offer Indian Head Massage, Swedish Massage, waxing, eyelash and brow tinting and shaping.
Beauty of Bedford have carefully researched and tested all the products we use in the salon, so you can remain confident in the knowledge that you will be receiving fully guaranteed results.
For this reason we use Dermalogica and Crystal Clear Microdermabrasion for our skincare.
We use Fake Bake for our sunless tanning.
Leighton Denny for our manicures and pedicures.
Bio Sculpture for our nail enhancements.
Nouveau Contour for our Lash Extensions.
Beauty of Bedford stocks the complete range of Dermalogica, Fake Bake and Leighton Denny products.
For further information please see the link above or contact details below.
Highlights
The salon has 5 identically equipped treatment rooms where expert therapists administer treatments in comfort and privacy.
Pictures
Salon reception.

Beauty product range.

Manucire and pedicure treatments.

Beauty of Bedford.
Pricing & Opening Times
Skin Care
Dermalogica Face Mapping®: The Core Treatment £39
Dermalogica Microzone™ £20
Crystal Clear Microdermabrasion 1 Facial : £55 / Course of 10: £499

Eye Treatments
Full set of top Lash Extensions inc. first maintenance £80
Fortnightly Lash Maintenance top only £28
Supplement for Coloured Lashes £2
Eyebrow Tidy £7
Eyebrow Reshape £10
Eyebrow Tidy (no wax) £10
Eyebrow Reshape (no wax) £14
Eyebrow Tint £7
Eyebrow Tint and Tidy £12
Eyelash Tint £10
Eyelash and Brow Tint £14

Tanning
Spray Tan £25 / Course of 5 £99 *

Leighton Denny Manicures and Pedicures
On the Move Manicure £15
Custom Manicure £26
Immaculate Manicure £32
On the Move Pedicure £17
Custom Pedicure £29
Pristine Pedicure £35

Nails / Bio Sculpture Gel
Bio Sculpture Gel Overlays in French £33
Bio Sculpture Gel Overlays in Colour £30
Gel Toes £35
Single Gel Nail - for repairs £5 per nail
Nail Art (per nail) please ask!
Gel Removal £10/£5 if applying new set or if followed by a manicure

Waxing
Lip £7
Chin £7
Underarm £9
Bikini £9/£12
Forearm £12
Full arm £17
Half leg £17
Full leg £22
Half leg & bikini £23
Full leg & bikini £27
Back £26

Specialist Treatments
Hair Extensions Prices on consultation
Hypnotherapy Prices on consultation

Non Surgical Cosmetic Treatments
Wrinkle Reducing Injections (BotoxTM/AzzalureTM)
1 area £150,
2 areas £200,
3 areas £270

Dermal Fillers
Lip Augmentation, Wrinkles or Deep Lines £230
Rhinoplasty (Nose Jobs) or Cheek Enhancements £250

Anti-Sweat Treatment
Forehaed £220
Underarms, Palms or Feet £450

Mesotherapy
Cellulite reduction/Fat loss from £90
Rejuvenation from £80
Skin Peels
Acne, fine lines & wrinkles, oily skin, sun spots, pigmented scars, smoker's lines, stretch marks and more from £80

Semi Permanent Make Up
Eyebrow Enhancements £275
Eyebrow Reconstruction £350
Lipliner £275
Lipliner & Blush £350
Eyeliner Top £200
Eyeliner Bottom £200
Eyeliner Top & Bottom £300

Teethwhite
Nothing boosts your confidence and self assurance quite like a beautiful smile with stunning white teeth. For only £250, that smile could be yours! Price includes in salon treatment, with home aftercare kit worth £55

Opening Times:
Mon: 2 pm - 9 pm
Tue: Closed
Wed: 2 pm - 9 pm
Thu: 10 am - 7 pm
Fri: 10 am - 6 pm
Sat: 9 am - 2 pm
Sun: Closed.
Testimonials
1. I have been to many beauty rooms and had many treatments and have all too often felt on display, pushed around and not relaxed as I have been worried about the outcome of the treatment I have been about to have. On this occasion I didn't feel any of this at all. I suppose going to a beauty room is a bit like going out for dinner, you will go back if the food is good, the decor inviting, the prices right and the service attentive but unobtrusive. On the flip side, even if the food is outstanding it is unlikely that you will go back if the waiter hassles you from start to finish then throws your bill at you whilst seating the next diners! Expect to be looked after by two expert therapists who care.

2. I have used Bedford of Beauty now for nearly two years and will not go anywhere else for my Fake bake Spray Tan having a perfect all even tan with NEVER any orange hands or feet the girls there always do a great job. You will never be disappointed. A excellent way to feel great on a night out I now never go out without one. They will always fit you in and having to drive for me that bit further is always well worth it'

3. I am halfway through my course of Microdermabrasion and I am extremely pleased with the results. My skin feels fresh, radiant, glowing and it's much clearer now. I would definitely recommend having this course of treatments, especially as you get the homecare free which saved me lots of money and the products are fantastic. I love the Cleanser, it really deep cleans my face and gets rid of stubborn make up. I love coming into Beauty of Bedford, the staff are friendly and they make you feel really welcome. And they make a great cup of tea!

4. A big 'Thank You' to Maria and Selina for introducing me to Fake Bake - I've never looked back. I'm blonde so St Tropez tended to look a bit orange on me. Fake Bake, however, looks natural and gives me a healthy glow for those special occasions. And even though I now live 40 minutes away, I still come to Beauty of Bedford because the girls are so friendly and helpful. I always look forward to my next visit!

5. I have had a few different treatments at BoB and just wanted to say what a fantastic service you get. It's not often that you find people who will go out of their way to go that extra mile. I tuned up late for a appointment and both girls stayed behind even though it was going to make them late closing and they didn't rush me or make me feel uncomfortable. I would advise anyone to give these girls a try and will be telling all my friends. Thank you. Will definitely be back again soon.

6. Thank you for a truly wonderful lead up to my wedding day (and my husband's!). Everyone commented on how well we both looked thanks to Beauty of Bedford. My mum and Jaunty really loved their manicures - thank you for fitting them in at such short notice!

7. Dear Maria and Selina. Many, many thanks for a wonderful day spent in your salon during my sister's hen day. As a newcomer to salon-going you both made me feel so welcome and at ease before, during and after my treatment I wanted to stay for more! Maria and Selina were both extremely professional and knowledgeable, yet friendly and approachable and the salon was beautifully calm, comfortable and very relaxing. My treatment (Oxy Contour) was incredibly relaxing and the renewed energy I felt following the session was astonishing. The whole day was well-organised and catered for (we all felt special that the salon was only available to us) and I will certainly be paying another visit to try out some other treatments.

All testimonials have corroborative supporting emails.


Other Information
Facials:

Yes

Makeup:

Yes

Tanning:

Spray Tan Only

Massage:

Yes

Nails:

Yes

Manicures / Pedicures:

Manicures & Pedicures

Waxing:

Yes

Skin Care:

Yes

Toning Tables:

No

Specialisms:

Dermalogica and Crystal Clear skin care.