Isherwoods
Cheltenham, Gloucestershire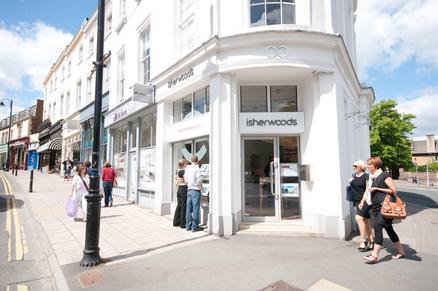 Cheltenham letting agents - Isherwoods office
Cheltenham letting agents letting and managing quality properties in central Cheltenham and surrounding Cotswold villages.
The only Cheltenham letting agents with shopfront premises in Montpellier - Cheltenham's upmarket shopping district.
We are located on the corner opposite Cheltenham's landmark Queen's Hotel.
Isherwoods has been in existence since 1994 and is the largest of the Cheltenham letting agents operating predominantly in the middle and upper end of the market.
Our properties include high quality studios and one bedroom apartments at around £500 per calendar month right up to large country houses at upwards of £5000 per month.
Most of Isherwoods' properties are fully managed by our dedicated property management department and many Isherwoods' landlords are overseas.
We also provide letting and rent collection services for landlords wishing to manage the property themselves.
Isherwoods have perhaps the strongest links with the corporate sector of any Cheltenham letting agents and regularly provide services to relocations agents and staff operating on behalf of Cheltneham's largest and most prestigious businesses.
Many of our lettings are to clients relocating to Cheltenham from overseas.
It is often said to us that we have the best website amongst Cheltenham letting agents and this provides a wealth of information to prospective clients including sophisticated mapping, multiple photographs and floorplans.
The website also shows local schools, shops, medical facilities and other facilities.
Isherwoods is not experiencing any downturn in the Cheltenham lettings market and we are letting record number of properties.
We are always in need of more properties of all sizes and in all locations both in town and out in rural villages.
Highlights
Cheltenham letting agents with town centre shopfront premises providing the most prominent property window in Cheltenham

Probably the best and most experienced lettings team working for any Cheltenham letting agents.
Pricing & Opening Times
Please contact us for our service fees.
Opening Times:
Monday - Friday...9.00 am - 5.30 pm
Saturday..........9.00 am - 3.30 pm
Other Information
ALRA Member:

Yes

OEA Member:

No

GLM Member:

No

NAEA Member:

No

Property Management Services:

Yes

Tenancy Deposit Protection:

Yes
Map & Directions
Ask for the landmark Queen's Hotel in the centre of Cheltenham (Imperial Gardens) and we are on the opposite corner - you can't miss us!