Fit Femmes
Chesterfield, Derbyshire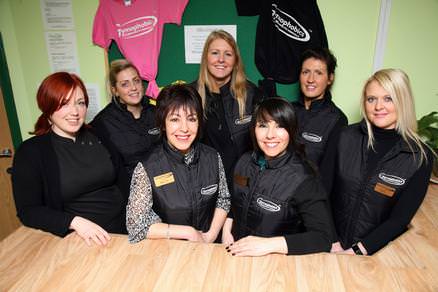 The Team
Fit Femmes Ladies only 30 Minute Workout:
Fit Femmes is very different from ordinary Gyms.
While most conventional Gyms provide good facilities but very little TLC, at Fit Femmes we put YOU at the centre of everything we do!
We are dedicated to helping our members achieve their goals.
From the day you start, we are 100% focused on helping you tone and shape your figure, lose surplus weight and inches and increase your energy levels.
No one is too overweight or too unfit, too young or too old for the Resisted Tension workout and you will be amazed at how easily you can cope.
Most ladies lose a dress size in the first few weeks on this ground breaking programme and go on to lose all their surplus inches.
Our unique exercise workout is called Resisted Tension and is the first exercise system in the UK to be granted a Trade Mark!
Power Plate
Too busy to exercise? There's no longer any excuse, with the Power Plate® machine, which is transforming the world of workouts by helping you to firm up your figure in a fraction of the time.
This remarkable exercise technology is already a favourite of many Hollywood 'A' list celebrities and professional sports people, who have seen the benefits of vibration training for themselves.
THE 15-MINUTE WORKOUT
Use the Power Plate machine, as part of a healthy lifestyle, for as little as three 15-minute sessions each week, and you too will soon see visible results.
It helps target problem areas; aiding inch loss and reducing cellulite, as well as increasing strength and flexibility for better fitness. It's the workout that fits your schedule.
MDD Certified
Every Power Plate model is a certified Class IIa Medical Device, meeting the highest European health and safety standards.
Scores of independent scientific papers produced by respected medical professionals around the world validate the remarkable health and fitness benefits that are possible with regular use of the Power Plate machine.
Authorised Centre
Fit Femmes is an Authorised Power Plate Centre and are approved by Power Plate to run classes and training sessions.
We have fully qualified Instructors to help you maximise your workout.
Non members welcome.
Call now, details below, to arrange your FREE TRIAL SESSION!
The Beauty Bar
Here at Fit Femmes we really can help you look fabulous from head to toe.
Not only can we help you achieve the figure you've always wanted but we can also keep that body beautiful with a full range of Beauty and Holistic Treatments.
The Beauty Bar at Fit Femmes is open to members and Non-Members.
If you are a Fit Femmes Member you will enjoy discounted rates and special offers.
We offer everything from Allergy Therapy and Reflexology to CND Shellac Nails & Non Invasive Liposuction.
For full details and further information or to book an appointment please see the contact details below.
Highlights
Power Plate Authorised Centre

The Beauty Bar - Beauty room
Pictures
VIP attention

Training with Gladiator Siren

Member Amanda after 10wks Lost 1st 2lbs 22ins

Amanda Now has Lost 4st 8Lbs 58ins
Pricing & Opening Times
We have many Membership packages and have different offers available throughout the year. Please see contact details below to arrange your Free Guest Visit.
Opening Times:
Monday & Wednesday - 8am - 8pm

Tuesday & Thursday - 9am - 8pm

Friday - 8am - 7.30pm

Saturday - 9am - 2pm

Sunday - 9am - 1pm

Testimonials
Amanda Membership No 50249



I have always struggled with my weight with most of my life and have never been entirely happy. In May 2008 I was at an all time low, I had had a back operation four years ago and the weight had just piled on. At my heaviest I couldn't even look in the mirror. I noticed an advert in the local newspaper advertising the gym and decided i had had enough it was time to do something.
The though of going into a gym totally filled me with dread but all the girls were so friendly and it was ladies only. All the ladies who attend have one thing in common and that to feel better about themselves.
The weight and inches dropped off gradually at first but once i started it got easier and easier. The circuit is also so easy to do and its enjoyable.
I am now at my target weight and feel great. I now enjoy shopping for clothes The girls are absolute stars and I've made some great friends as well. I have lost a total of 4st 8lbs and 58 inches.



BIG THANK YOU , I couldn't have done it on my own.






Judy Membership No 51416



When looking at some photos taken of us last year , my Partner and I both decided it was time for us to re-think our eating habits and to start taking more exercise.
However , it was the onset of a family wedding , later this year , and the fear of the wedding photographer's camera , that gave me and my Partner that extra motivation to help us start turning that decision into a reality.
So in April , having put together our own healthy eating plan , we began to eat more sensibly . The increased energy from simply eating better meals quickly gave me the energy to start exercising more and so I decided to join a Gym to accelerate my weight loss still further.
I chose Fit Femmes in Chesterfield because their Ladies Only feature really appealed to me, plus their exercise circuit only takes half an hour to complete so it was easy to fit into my busy schedule .
The air resistance equipment is easy to use and I have found it very effective.
The instructors at Fit Femmes are friendly and have extensive training and knowledge about exercise and weight loss. In just 7 weeks the weight loss I have achieved is 1 stone 1 pound. I've managed to reduce my body measurements by 14 and a half inches and 6" of those came off my hips!!!!!!!.
The new body shape that is emerging since I started at Fit Femmes has made me much more confident as I feel better about myself.
Facing a camera now is not a problem thanks to Fit Femmes.






Christine Membership No 50165



I've never eaten regular meals and I didn't really notice my weight was creeping up. I was aware that my back hurt after driving long distances and seeing a new ladies only gym - Fit Femmes opening nearby in Chesterfield I decided to make enquiries after reading claims that their 30 minute circuit could help ease muscle pains.
At my induction, standing on the scales for the first time in 20 years and seeing that I weighed almost 13 stone came as a shock and I vowed to do something about it. Every member gets an individually tailored programme consisting of exercises that are air assisted and suitable for anyone. With the encouragement and advice from the friendly instructors at Fit Femmes about eating regularly I found I really enjoyed working out on the 30 minute circuit. The exercises are not strenuous and can easily be carried out during a lunch hour.



After 30 weeks I lost 3 and a half stone and dropped 4 dress sizes and feel so much healthier. I am now 9 stone 4lbs.





Julie Membership No 51302



I was off work ill for about 18 months; with what the Doctors thought was M.E. Eventually I was diagnosed with early menopause and put on to HRT. The consultant at the hospital told me I would never loose the weight I had put on …………… They had not reckoned on the team at Fit Femmes.



I walked in to have a look round on a cold snowy morning, wearing my ski trousers and Monique promptly put me on an exercise machine, snow boots and all!



With member of all ages there is always a fantastic atmosphere. The staff are very knowledgeable and encouraging and always make time to have a chat and a laugh.



At my 10 week assessment I was amazed to find that I have lost 9 and a half inches from doing the circuit and using the power plate – the best invention ever.



After the workout most members sit and have a coffee and a chat. Exercising used to be something I did because I had to; now I go to Fit Femmes, laugh till my face hurts and lose weight in the process. The whole team make it an absolute pleasure to work out.



Other Information
Pool:

No

Personal Trainer Available:

Yes

Instructors Available:

Yes

Classes:

Callisthenics, Boot Camp, Circuits, Body Sculpt, Power Plate Sessions

Health Assessment:

Yes

Seperate Free Weights Area:

Yes

Members Only:

Yes

Accreditation:

Fully qualified Gym Instructors, F.I.A Member, More Active For Life Member

Business Type:

Independent

Dietry Advice:

Yes
Map & Directions
We are in Chesterfield Town Centre above Barclays Bank.
Closest car park are the Town Hall car parks on Rose Hill.
It is free to park in front of the Town Hall after 6pm week days and all day Sunday.