La Fleur Florists
Manchester, Greater Manchester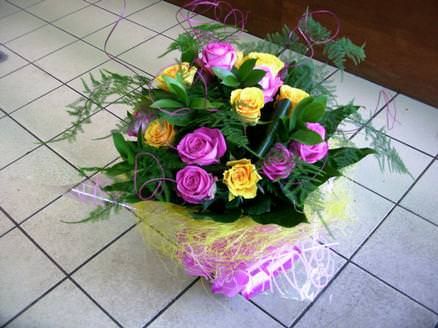 Rose handtied bouquet
La Fleur Florists supply flowers of quality and distinction to any location in North Manchester.
As a member of the Teleflorist Flower Relay Organisation, we are able to arrange delivery of your flower orders to other parts of the UK (and to 150 countries worldwide)through other Teleflorist members.
We are based in Middleton, about 8 miles north of city centre Manchester. La Fleur is an independent, family managed company, established in 1988.
Our florists produce floral arrangements for every occasion for both the private and corporate sectors and our fleet of vehicles ensures that orders are delivered on the day the customer requires them.
Over the years, La Fleur Florists have provided floral arrangements for -
-royalty visiting the North Manchester area
-artistes and stars performing in Manchester, from the worlds of theatre and pop.
-local sporting celebrities
One of our specialities is wedding flowers and our senior florist has been a wedding co-ordinator for over 20 years. We supply flowers for all wedding venues in Greater Manchester, the North West and the North East of England.
Highlights
Wedding flower specialists

Highly qualified staff with a delivery service second to none
Pictures
Modern basket arrangement

Choice variety of quality flowers

Modern table arrangement

Exotic handtied bouquet
Pricing & Opening Times
Flat pack bouquets from £29.95 delivered anywhere in UK

Handtied bouquets (non aqua) from £32.95 delivered anywhere in UK

Handtied bouquets aqua packed from £34.95 delivered anywhere in UK

Basket arrangements from £32.95 delivered anywhere in UK

Posy arrangements from £27.95 delivered anywhere in UK
Opening Times:
Mon - Fri 9.00am - 5.00pm
Sat 9.00am - 4.00pm


Other Information
Same Day Delivery:

Yes

Interflora:

No

Order Online:

Yes

Home Delivery:

Yes

Free Delivery:

No

National Delivery:

Yes