J Thompson
Great Yarmouth, Norfolk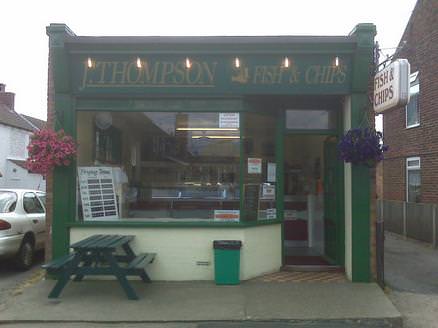 Thompson's at 53 Tan Lane Caister was established in 1929, when the owner would take his own boat out fishing, clean the fish and fry with chips in a coal fired frier, the opening for the chimney is still evident on the ceiling.
Many generations of owners have maintained the tradition of local caught fish and we are proud to be the latest.
Nowaday's we have our fish delivered from Lowestoft, but is still as fresh and good as it was then.
We specialise in line caught cod and haddock, with skate being one of our biggest sellers, along with rock eel (rock salmon) and extra large cod cut to order. Plaice on the bone is also a favourite with locals.
In November we start frying fresh plaice roe, along with dab and lemon sole all subject to availability.
All our fish is cooked fresh to order, to avoid waiting we are happy to take your order by phone (see contact details section below).
We offer a senior citizen special on Tuesday and Thursday lunch of cod, chips, peas and a roll for £3.50, a favourite with our many local retired customers.
Also on offer are pies, sausages, burgers, nuggets, chicken,and savaloys.
Come and give us a look, you won't be disappointed.
Highlights
Superb local fish daily from Lowestoft.

Fish fried fresh to order.
Pricing & Opening Times
Opening Times:
Tuesday 11.30 - 1.30 4.30 - 8.00
Wed closed lunch 4.30 - 8.00
Thur 11.30 - 1.30 4.30 - 8.00
Fri 11.30 - 1.30 4.30 - 8.30
sat 11.30 - 1.30 4.30 - 8.00
Sun closed all day
Mon closed all day winter 4.30 - 7.30 summer
Other Information
Eat In:

No

Take Away:

Yes

Orders By Phone:

Yes

Home Delivery:

No

Other Cuisines:

No

Alcohol Licence:

No
Contact This Business
Use the buttons below to contact this business:
Nearby Fish and Chip Shops