Underwoods Decorating
Northampton, Northamptonshire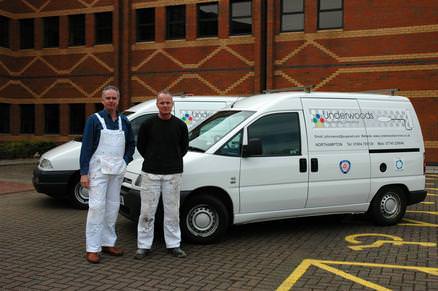 Owners
Underwoods Painting and Decorating have over 20 years experience within the industry and offer a complete decorating service to both residential and commercial clients. Based in Northampton we cover all of Northamptonshire and have built a reputation for quality, reliability and a friendly service that has led to many satisfied customers who provide regular repeat business.
At Underwoods Decorating we provide all of our customers with a first class, high quality, professional job which is carried out by time served tradesmen and only the best selected subcontractors who can demonstrate their skill both on the job and with certification. All tradesmen will clear their work area at the end of each day and ensure that all areas are left safe, secure and clear of any materials or rubbish.
We use only the highest quality materials to provide that special finish. Our main suppliers currently are, Johnstones, Leyland, Crown and Dulux. If you have a specific requirement for a brand not mentioned that you would like such as Farrow & Ball we are able to supply this and many others. Wallpaper and other decorative finishes are also available.
We are members of the Painting & Decorating Association and follow their strict code of practice. You can be assured that our work will be of the very highest standard and that we are fully insured.
Enquiries are welcome for complete decorating contracts both commercial and domestic, we also welcome small works with the same enthusiasm, whether just painting a ceiling or a single door frame, you will still receive the same high standard of service.
FAQs
We understand that decorating your house can be a worry and that the whole process may raise a few questions that you would like answered before you take matters any further.
Below we have listed a number of questions and answers to many of the concerns that prospective clients raise. We hope that this information answers any queries you may have. If not, please feel free to email your query using the email service within this site. We will endeavour to answer within 24 hours.
Do you do small jobs?
We undertake contracts of all different sizes, no job is too small and you will receive the same high standard of service.
Do you charge for written quotations?
No charge is made for detailed written or verbal quotations and no obligation is placed on you to take our services.
Would I have to pay a deposit or an advance before the work starts on my decorating?
We do not request deposits or advances prior to the work starting. Full payment is made at completion of the work and when the client is fully satisfied. The only exception being, large contracts where stage payments have been agreed.
Are your quotes fixed price or do they vary?
Our quotations are always fixed price unless there are unknown elements to the work to be completed. If that is the case we obviously discuss that with the client in order to understand all possible outcomes. If any extra work is required, we would gain your approval prior to starting.
Are you insured and do you guarantee your work?
Our liability Insurance has been sourced through the Painting & Decorating Association. Our certificate is available for inspection if required. Our work is guaranteed for 12 months from completion or invoice date.
Would I need to take time off work whilst the work is in progress?
Providing you are happy, we are happy to work at your property whilst you are at work. We have many years of experience doing this and will take care of and respect your home or property.
What about security and the alarm system?
We regularly lock up and set the alarm systems of properties we work in. We are very aware of the need to be security conscious and lock doors whilst inside.
Do you move furniture?
Moving furniture is part of what we do; very rarely do we work on project where furniture isn't present. No additional charge is made for this.
How do you make sure paint doesn't go everywhere?
Great care is taken to cover furniture and carpets using dust sheets, polythene sheeting and tape at the edges. We appreciate these are your personal effects and that they should be respected.
Will there be paint pots and ladders left everywhere each night?
At the end of each working day all paint, ladders and equipment will be removed from your property, furniture replaced and carpets vacuumed and left clean and tidy. Part of our reputation has been built on this fact and can be verified by many satisfied customers.
Do you take away all rubbish?
All resulting rubbish i.e. wall paper trimmings, empty cans and pots will be removed from site and disposed of.
Do you supply the paint for the job and can you do any brand?
Our quotation will be fully inclusive of all materials. We can supply any brand that you require also Eco Friendly and water borne paints if you are sensitive to oil based products.
Are you able to advise on colour schemes?
We are not interior designers but we do have an eye for colour and would be happy to make suggestions however, the final colour choice would remain with the client.
Will I get a written invoice for the work completed?
All contracts are invoiced and signed as received on receipt of a cheque at completion.
We hope that the above has answered some of your questions. Please be assured here at Underwoods Decorating we take the business of other people's property and possessions very seriously. It is our job to ensure that the work causes as little disturbance to the client as possible and make it a stress free experience.
Pictures
Complete Decorating Service

Members of the Painting & Decorating Assoc

Interior & Exterior work

High quality wormanship
Pricing & Opening Times

Each individual job is priced according to the work required. We are competitive.
Opening Times:

5-6 day each week, hours to suit our clients.
Other Information
Plastering:

Yes

Tiling:

Yes

Exterior Work:

Yes

Paper Hanging:

Yes

Paintwork:

Yes

Domestic Work:

Yes

Commercial Work:

Yes

Professional Association Memberships:

Painting & Decorating Association