Helena's Flamenco School
Worthing, West Sussex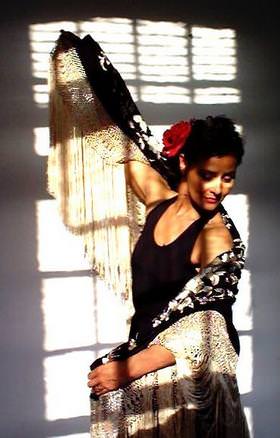 I am an experienced Flamenco, Spanish Classical and Regional Dance teacher, dancer and lecturer. I teach weekly classes and workshops in towns throughout Southern England and teach frequent intensive courses in Madrid, Seville and Cordoba. I was formerly resident Flamenco teacher at Sadlers Wells during the prestigious London Flamenco Festival, the UK's major Flamenco event.
I have spent many years learning and perfecting my art in the major Flamenco schools in Madrid, Sevilla and other cities in Spain and in the UK with the respected Spanish Dance Society. Among many others I have studied with such Flamenco dance luminaries as Rocio Molina, Farruquito, La Tati, La Truco, Immaculada Ortega, Rafeala Carrasco, Manuel Linan and Marco Flores.
I have performed on stages all around the UK and Europe with my touring company, Simpatico Flamenco which has scored notable successes at major arts festivals such as at Brighton. I have performed and taught many times on TV and radio, most recently on a BBC TV programme exploring the spirituality of Flamenco but a huge diversity of previous Flamenco TV appearances have included quiz shows and children's programmes and I have taught the rudiments of Flamenco to a number of well known personalities for TV and films.
I often teach workshops at schools and colleges and have taught groups of all ages, abilities and disabilities. These can take several forms but a favourite is a series of classes for the pupils followed by a brief lecture explaining the ancient origins of Flamenco and a brief performance of 20 minutes or so for the whole school.
I frequently lecture on Flamenco and it's origins in Gypsy culture via India and North Africa to various groups and own one of the largest collections of Flamenco resources in the UK comprising books, videos, rare recordings and period costumes.
I can supply excellent references from Schools, Education Authorities, the BBC and Sadlers Wells.
If the above is of interest please do not hesitate to contact me - see contact details section below.
Pricing & Opening Times
Various depending on age and location
Other Information
Types of Dance Taught:

flamenco, spanish regional and classical

RAD Registered:

No

ISTD Qualified Instructor(s):

No

NDTA Registered:

No

SOBHD Member:

No

SDTA Member:

No

UKA Qualified:

No

Adult Classes:

No

Childrens Classes:

No

Minimum Age: