Lifestyle Windows Door Conservatories
Ilkeston, Derbyshire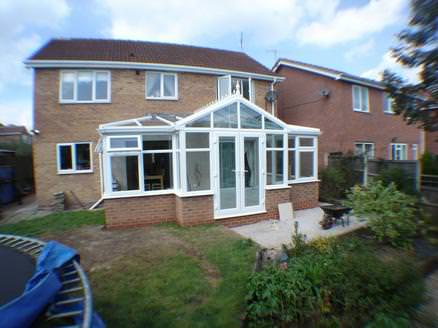 "T" Shape Conservatory
Lifestyle Windows, Doors and Conservatories is a small local family owned and operated business based in Ilkeston, Derbyshire.
We were established in 1994 and have built a strong reputation in Nottinghamshire and Derbyshire for quality UPVC and PVCU (between which there is a minor difference) windows, doors and conservatories, professional staff and competitive prices.
It is in large part due to the fact that we are a small family company that we have enjoyed so much recent success.
Every time we do work for people we are not just installing new UPVC windows and doors or putting up a conservatory; we are putting our name and reputation on the line (sometimes we are not even installing the products at all - DIY is becoming a large part of the UPVC windows, doors and conservatories industry).
Therefore, we have to ensure our finished UPVC windows, doors and conservatories are of the highest quality, leaving our customers more than satisfied.
In turn it is because of this that we now rely on recommendations for most of our conservatory business.
These basic principles have led to Lifestyle receiving the Customer Care Award from the Consumer Protection Association.
The dedication of our UPVC windows, doors and conservatories installation teams is a big factor in our customer base and certainly the biggest factor in winning any award.
We have twice been awarded the Quantal Conservatory Roof System Regional Installer of the Year Award.
A Quantal Conservatory Roof System differs from a conventional one in that a special powder coating is applied directly onto the frame.
This powder is extremely durable to the elements and UV light, the main causes of wear.
This means our conservatory roofs have a life-span of at least 25 years.
The reason we won the Quantal award for our conservatories can only be put down the professionalism of all the staff in our installation department.
This professionalism can be seen in all UPVC installations from new UPVC doors or UPVC kitchen windows to a new swimming pool conservatory enclosure that we built in 2004.
We are also a member of the Erewash partnership.
This is an organization consisting of over 250 private firms and businesses that is dedicated to a coordinated approach to economic growth and regeneration thus allowing both individuals and groups in our society to reach their full potential.
We have never believed in high-pressure sales tactics to sell our UPVC windows and doors and will not push salesmen onto you.
Instead we send our home surveyors, who will simply look at the proposed UPVC work and talk about the design, UPVC products and other features available, such as DIY installation.
We have always believed it is important to forward a written quotation after home surveying with all the details of the proposed installation of UPVC windows, doors or conservatories.
With our conservatories we also have a photo-CAD facility to illustrate the proposed designs of different conservatories.
We have also built up a reputation for a competitive price structure.
We are not a cheap company when it comes to UPVC windows, doors and conservatories but we are also not an expensive company.
It can be difficult to find the right balance; we believe we know what today's consumer wants with their UPVC windows and doors; value for money.
It is always a good idea to get more than one quotation, especially for a conservatory, and if you analyse the differences you will see we are rarely beaten on a like-for-like quotation.
Highlights
Outside Conservatory Village / Bespoke Design Service

Customer Care Award Winners / Family Owned and Operated
Pictures
Edwardian "P" Shape Conservatory

Gable Fronted Conservatory

"T" Shape Conservatory

Edwardian Conservatory
Pricing & Opening Times
Windows from £245.00
Doors from £500.00
French doors from £800.00
Sliding doors from £850.00
3 * 3 Meter Edwardian Conservatory from £6140.00
Bi-Folding doors from £1800.00 DIY
Tiled conservatory roofs - Retro fitted from £8000.00
Orangeries starting from £10,000.00
Opening Times:
Mon - Fri 8am - 4.30pm (Evening by appointment)

Sat 10am - 4pm
Testimonials
We would just like to thank Chris and his team at lifestyle for a wonderful job erecting our orangery. We were kept in the loop throughout the installation and nothing was too much trouble.

You have a great team Chris the bricklayers, electrician, installation team, plasterer and the tiller all worked to exacting standards and polite and clean whilst doing their jobs. Now its finished it looks wonderful we are so pleased with it and looking forward to many happy hours in there.

Once again thanks so much we would recommend lifestyle to under take any work in the future without hesitation without being too expensive.

Cheers Mr and Mrs Collier
Gamston
Nottingham
Completed 06/08/2013


Chris,

Following the construction of our orangery we wanted to put some thoughts down on for you on the whole experience.

Lifestyle have been exemplary from first visit through to final construction. When they visited to discuss what we wanted and quote they had lots of ideas and options and ways to make the most out of the orangery we had planned, many that other companies failed to offer even when specifically asked (from completely flat entry interior French doors to Tie Wires to support the roof). The quote was presented with a list of options so we could choose exactly how we wanted the orangery and tailor it to our requirements. The building work started very promptly upon signing the order. Each trade that visited Builders, Plumber, Electrician and Lifestyle themselves worked long hours and many weekends and worked hard to achieve a spectacular result. The builders especially were very good at cleaning up after themselves after finishing for the day. The end result is an orangery that is exactly what we wanted, where Lifestyle have gone over and above what was required in order to achieve a superb building that stands out for its luxury and build quality. Lifestyle's have paid a great deal of attention to detail, as well as to the larger more obvious design, in order that the finished orangery is special and of the highest possible standard – right down to changing the external PVCu window sill that had been an external window to add an interior window board since that was now inside the orangery. The inevitable small snags post-build have been dealt with efficiently and promptly and without quibble – however minor or pedantic on our part.

Regards
Jackie and Steve Wadsworth


Mr & Mrs Loydal.
Stapleford, Nottingham.
Installed March 2013.

We finally selected Lifestyle Windows & Conservatories to install our conservatory (6.2m x 4m) due to the fact that they were very knowledgeable, listened to what we wanted and by no means pushy throughout any process. Chris initially came around to get an idea of what we wanted and came up with some good ideas and suggestions that would help us get what we wanted from it. He told us to have a think about certain features and actively encouraged us to get additional quotes from other installers, which we thought was a little strange.... suggest more competition? We did this and got some more ideas but were still undecided as to the final specification. Whenever we got in contact with Lifestyle we got the answers we needed to our questions, not always the ones we wanted to hear, but they are the professionals not us, and since our conservatory has been installed, we now fully see that their advice was spot on. Whilst we were deciding on what options, sizes, decisions, company to choose we maintained good communication via email and the help and advice was always forthcoming. We shortlisted to 2 companies and we are so pleased we chose Lifestyle. We elected to do our own groundwork and brickwork; this was no problem for Lifestyle; Chris helped me all the way with things about what we needed to do, and came and had a look a few times when we asked if we were doing it correctly. When Lifestyle arrived to install it, we were met by experienced fitters Bob & Mark... These guys I cannot thank or recommend highly enough. Very Professional and absolutely fantastic guys who did an outstanding job with the installation. They kept the place nice and tidy whilst the installation was on going, and not a trace of silicon showing anywhere. PHEW ! The finish is everything to me and a poor installation would have ruined it. Certainly NOT in this case. Brilliant! Once the installation was finished we continued to progress the project ourselves I.e. - plasterer, electrician, tiler as we know people already in the trades. This was no problem or issues with Lifestyle and they even got in touch afterwards to request to come round and address any minor 'snags' that we may have found. FANTASTIC ETHICS GUYS!!! We have absolutely NO doubts in our minds that we chose the correct company to add a fantastic additional room into our home. .
In summary... They came in to quote, give ideas and suggestions, and recommend that we get additional companies in to quote. Their quote was very competitive compared to the rest and felt at ease that they would make it all work out how we wanted and felt confident in their abilities.. They installed professionally in a timely matter and the finish is absolutely superb. They call afterwards and want to fix any minor 'snags' we may have found. Outstanding Guys, Thanks so much. We have a lovely new living space now that is everything you promised and more!


Dear ChrisThis note is to thank you for the supply and installation of the conservatory to our home. It may also serve as a
recommendation to potential customers. The project was entirely successful and we are very satisfied with it and
all aspects of the service you have given us.As you know, we had quotations from three other companies but had no difficulty in placing our order with you for
a number of reasons that included: your sensitive and imaginative response to our basic design specifications; your
very detailed quotation with an appropriate balance of general and technical information; your prompt attention and
ability to give an early and definite timetable for the installation. In addition, we believe that your products - the
framing and glazing materials, the glass roof system we preferred, the window and door furniture and fixings - are
superior to those of your competitors that we approached. Furthermore, your price was highly competitive and
included what were 'extras' elsewhere such as Argon-filled glazing units, superior door locking systems and
lowering the threshold to the existing access door to my studio.The installation period enjoyed unbroken good weather and we were most impressed by your teams of craftsmen
concerned with the groundwork, erection and glazing, plumbing and electrical work, plastering and finishing. All
teams were uniformly friendly, informative, respectful of each others' contribution to the project, punctual and
careful in all their work. They spoke well of you, your company, the other craftsmen and their work generally for
Lifestyle. It was to their credit that they seemed to require no supervision and were clearly highly skilled in their
various fields. The senior fitter of our team provided, on his own initiative, an elegant solution to what could
otherwise have been an unsightly feature of the junction of the new guttering to the existing drainage outlet. They
made every effort to leave the site tidy and presentable each day and at the conclusion of their work.Apart from some restorative work to the patio surround - not included in our order from you - the project is now
complete and the conservatory is floored, decorated and furnished. We are delighted with the result and gratified
by visitors' compliments and admiration. It has been a pleasure to deal with your company, not least because of
your personal involvement in, and oversight of, the design, pricing, project management and completion of the
undertaking. You also supplied and fitted a new front door with which we are also delighted. We unreservedly
recommend you to anyone seeking a similar installation. The attached photographs provide some indication of the
'before and after' state, and some insight into the quality of the product and your company's work.Best wishesStuart & Barbara Watson Oakwood, June 2011


Other Information
Conservatory Construction:

Yes

Conservatory Repair:

Yes

Extensions:

Yes

Design Services:

Yes

Planning Process Assistance:

Yes

Windows & Doors:

Yes

Association Memberships:

FENSA / Consumer Protection Association

Kite Mark Certifications:
Map & Directions
We have on-site parking.

Simply drive along South Street from the main island at the top of Ilkeston and West Street.
We are about 200 yards on the left hand side(We have a sign on the wall)
Nearby Conservatory Installers