Smart Cleanings UK Ltd
Aylesbury, Buckinghamshire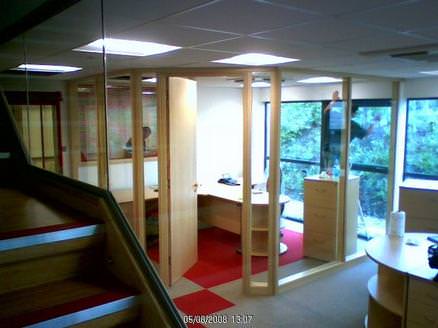 Office cleaned by Smart
Smart Cleanings UK Ltd strives to go the extra mile for your complete satisfaction ensuring that you will be pleased with our office cleaning services in Aylesbury.
Please be assured that our bid is submitted to do the entire job every night or every early morning.
We pride ourselves of being one of the excellent and cost effective cleaning companies in Bucks.
We do not cut corners or rush through the cleaning process or daily cleaning tasks.
We take pride in our reputation and our quality of work reflects this since our commencement in 2005.
We have the ability, knowledge and resources to bring into your office the personnel and equipment necessary to complete any cleaning task.
This will be done on time to the highest standards of hygiene, without compromising your daily business operations.
Smart Cleanings UK Ltd cleaning and janitorial service agreement is based solely on quality, cost effective services and performance.
You will surely see the difference in your office from the very first day.
Look no further and call our expert cleaning services in Bucks.
Smart Cleanings UK Ltd do not claim perfection, but we promise pride, quality, reliability, perseverance and the utmost care and attention to all clients.
Our only security is your day to day satisfaction.
You will be pleased with the difference a professional cleaning service can make in the appearance and cleanliness of your office.
We are fully committed to be part of the new generation of cleaning companies in Aylesbury, changing the attitude and business vision.
We are a hands-on-approach cleaning company leaving our suits, shirts and ties behind and have a constant presence in the daily ground operations.
Please call us, see contact details below for quality and cost effective cleaning services in Aylesbury or Office Cleaners in Bicester.
Look no further and contact us for Office Cleaning Services in Aylesbury, Janitorial Cleaning in Bucks or Contract Cleaners in Aylesbury.
We cover many different areas, we are also able to provide Office Cleaners in Oxford or Store Cleaners in Oxfordshire.
You can also see our presence in London as we provide Office Cleaning Services in London.
Smart Cleanings UK Ltd believe that the cleaning quality process consists of two components:
Continuous re-assessment of the programme that will define what services are required, ... and how and when we must provide them.
The quality assurance ensures that all initiatives are developed through the continuous re-assessment program, on-site inspections and constant contact with the client.
Our commitment to quality is where experience and procedures come together.
Constant supervision and attention to detail is our doctrine but nothing is left to chance.
Our procedures ensure that our cleaning services in Bucks conform to the customers satisfaction day in and day out and going the extra mile.
Pictures
Warehouse cleaned by Smart

Offices cleaned by Smart

one of our service vans
Pricing & Opening Times
Quotations are provided free of charge.

Opening Times:
Monday to Friday: 08:30 am to 07:00 pm
Saturday: 08:30 am to 12:30 pm
Sunday: * Manager on call
Testimonials
" Dear all,
All residents of Shaftesbury Housing in Aylesbury would like to thank you for the great and professional cleaning services you provide. All five buildings are immaculate and now everyone can see the difference. We would like to take this opportunity also to thank you for the very friendly, professional and helpful staff which is always there to help some of the elders and disabled. Many thanks."
Best regards.
The Residents, Sanctuary Housing Group - Bucks.

I would just like to pass on my thanks for the superb job you and your team did. I new my office needed cleaning, but it was only after seeing the results that I now appreciate just how bad it was! Everyone in the office has commented and we still can't believe that the floor in the kitchen was ever that colour. I would have no trouble in recommending Smart Cleanings UK Ltd to anyone" ...
James Meier, TipsTrade - Bucks.

Just wanted to say, the whole office looks and smells fantastic. It was widely commented on and it is great to have Smart Cleanings UK Ltd as our chosen cleaning services provider. Many thanks ". - Mrs Tina - Oxfordshire Daat - Facilities Manager, Oxford [Part of NHS Primary Care Trust]- Mrs Tina, Oxfordshire DAAT / NHS PCT.

Dear Smart Cleanings UK Ltd, just a quick note to highlight how clean and fresh is our construction site for the new Aylesbury Theatre - Substructure Works. Everyone as commented and we are very pleased with your cleaning services. A very good and organised cleaning records. A really good service! Excellent, Many thanks" - Cheetham Hill Construction Ltd. - Lancashire.

I just wanted to say how pleased we are with the quality of the cleaning services provided by Smart. A cleaning company in the market with probably one of the best cleaning standards and where we can see directors involved on the cleaning duties - a company with a real hands-on-approach philosophy; Many thanks" - Brian Davies - USA Embassy London / US Department Of State.





Other Information
Domestic Cleaning:

No

Non-Domestic Premises Cleaned:

Offices, Commercial, Residential, Builders Cleans, Retail

Daily Cleaning:

Yes

Window Cleaning:

No

Computer Cleaning:

No

One-off Cleans:

Yes

Floor & Carpet Cleaning:

Yes

Upholstery Cleaning:

No