Foy Church - St. Mary's
Ross-on-wye, Herefordshire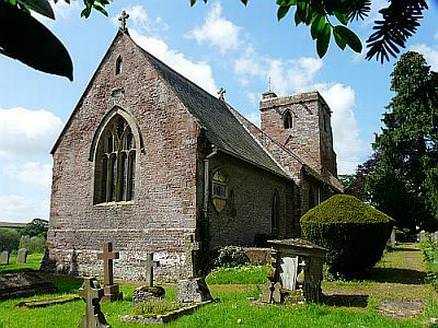 Foy Church - East Facade
Foy Church is in a secluded part of the idyllic South Herefordshire countryside. Situated on a peninsula in a meander of the River Wye, the Church commands perhaps one of the finest vistas in the shire from its position on top of a small cliff of exposed old red sandstone.
The present building dates from the 13th Century, during the reign of Henry III, when the nave and chancel were built. However, the true origins of the church here extend back much further.
In the eastern corner of the churchyard there is an ancient yew tree, beneath which is a bench seat. This is an ideal spot to rest and enjoy the stunning rural views over the river and suspension bridge to the farmland of Hill of Eaton opposite and upstream the wooded slopes of the Perrystone estate.
Besides the picturesque views, the Church has many other interesting features. The font has the largest bowl in the shire and is also unique within the county in terms of its decagonal shape. Behind the Jacobean pulpit is an altar-tomb, almost certainly that of Sir Hugh Waterson, once Chamberlain to the last Duke of Lancaster, Earl of Derby and Hereford, who in 1399 usurped the throne as Henry IV. The walls and floors of the chancel are filled with exquisite memorial tablets, the most notable of which is by the renowned Esau Osborn of Bristol commemorating John Abrahall.
There is much to see here and visitors are always welcome, with the Church being open most days of the year. Visiting by car is not an issue since the church car park is directly adjacent and provides ample parking.
Highlights
Superb vistas across the River Wye

Unusually large Font
Pricing & Opening Times
Opening Times:

Open most days of the year from 10:00am until dusk.
Other Information
Church:

Church of England

Weekly Services:
Community Programmes:
Meeting Facilities:

No

Youth Activities:
Study Classes:
Map & Directions
As you enter the village of Foy by car you will pass a stone and red brick wall on your right side, promptly followed by a farm yard and outbuildings to your left.

The Church car park is then the next right (our church noticeboard is adjacent to the entrance).