Scilla Wilsdon Home Visiting Chiropody
Rustington, West Sussex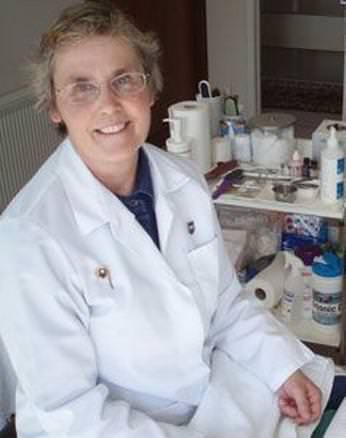 Scilla Wilsdon Working
Scilla Wilsdon FSSCh. BSc. DipPodMed. MBChA is a home-visiting chiropodist providing treatment in the Rustington, Littlehampton and West Sussex area.
With over 19 years experience she provides a professional and caring atmosphere for her patients. Many of her patients are elderly, which led her to provide specialist services for arthritis relief.
Her career as a chiropodist is built upon her years as a nurse, having been trained at Charing Cross Hospital, London. Scilla has also gained qualification in the areas of Sports Therapy, Cryosurgery, Biomechananics and Injury Rehabilitation.
In 2002 she was given a Fellowship position within the SMAE Institute. According to SMAE, her "integrity, trustworthiness and general suitability has never been questioned".
Scilla Wilsdon is a full member of the British Chiropody & Podiatry Association (MBChA) and carries professional Indemnity insurance of £5 million for the protection of her patients. She is also registered with the Health Professionals Council.
Pricing & Opening Times
Pricing is given over the telephone before an appointment is made and will depend on traveling distance.
Opening Times:
Monday - Friday 9.00am - 6.00pm.
Appointments may be given outside normal working hours upon request.
Other Information
HPC Registration Number:

CH21744

Professional Body Membership:

British Chiropody & Podiatry Association (MBChA)

Type of Work:

Private Only

Home Visits Available:

Yes

Specialisms:

Sports Therapy, Cryosurgery, Biomechananics and Injury Rehabilitation