Pet Chalet Holidays (Cattery)
Great Yarmouth, Norfolk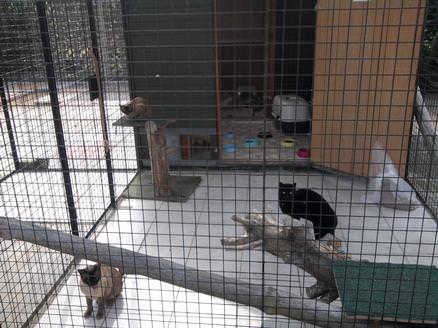 Happy cats
If you are looking for the type of accommodation for your pet cat that has the same feel as your own home - then Pet Chalet Holidays is just what you are looking for.
We will look after your pet as if it were our own, they get cuddles and lots of affection.
All units are cleaned between guests, they will have clean bedding and carpets.
During the cold weather there is extra heat, they also have individual heat lamps to keep them extra cosy.
On our link above there is a brochure that you can view, it contains all the information about us, including prices and a map on how to get to us.
The biggest compliment we get is the reaction from our customers, the main comment we get is 'It's as if the cat has never been away from home, they settle in so well and are not stressed.'
Highlights
Brick built indoor units

Clean and cosy
Pricing & Opening Times
Please see link above or contact details below.
Opening Times:
Monday - Saturday
8.00 - 8.15am -9.30 - 1.0pm and 3.30 - 5.30pm

Sunday
9.00am - 12.00pm
Testimonials
When I first took my cat to Pet Chalet Holidays, I was nervous as I had never taken him to a cattery before. After looking around and speaking to the owner, it did so much to make me feel better! Clive explained everything so well and took me to see the units where my cat would be staying.

They have plenty of room, with an individual indoor and outdoor space. The units are always clean and well maintained, and it was really obvious from the start that Clive really loves animals and does his utmost to give them the very best care at all times.

By my second visit, Clive had worked out what my cat likes and put this into place in his unit which I feel shows that he spends time with the animals, observing them and being concerned about what they want/need. He always has time to listen to any concerns that you may have and allows you to settle your cat into the unit even when he is really busy.

Clive is always affectionate with the cats, and while usually my cat is very nervous around men, he is so relaxed with Clive, happy to just sit in his arms and be cuddled.

My cat is never stressed when he returns and these things I feel show that he really is well looked after.

I can't rate Pet Chalet Holidays highly enough, and thoroughly recommend them to anyone looking for a safe, caring place to place their cat.

Excellent all round service!


Other Information
Heated Pens:

All

Run:

Outdoor

Multi-Cat Pens Available:

Yes

Special Needs:

Various

Dog Kennels On Site:

No

Food Provided:

Yes

Number of Pens:

20

Number of Cats Accommodated:

40

Quarantine:

Yes

Long Stays:

Yes