Bridal Barn & Wedding Cars
Stockton-on-Tees, Cleveland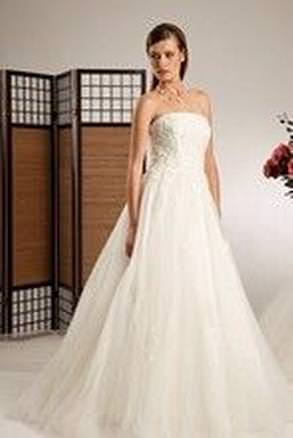 Welcome to Bridal Barn & Wedding Cars, and to our bridal boutique which you will find located just behind Stockton high street, in Regency West Mall.
From humble beginnings, we started out working from home in a purpose built building on our property.
We have now been able to expand and grow the business into a shop whilst still providing clients with an intimate and warm service.
You will find exceptional value for money at Bridal Barn as we have carefully selected our suppliers and ranges to suit today's needs.
All gowns are priced under £695-these are much more realistic prices at the same quality.
We can even offer a design/bespoke gown service, please ask for more details-we can create anything!
We stock a range of bridesmaid and prom gowns, and even have a bespoke tiara making service made by our own fair hands!
With our stunning wedding cars providing the icing on the cake we can tailor a package to suit your needs and budget and can combine a price to include your wedding gown and wedding car, the more you buy the more you save.
Come and see for yourself just what we can do for you.
There is no intimidation in our pretty shop, just good old fashioned service with a smile. - As it should be.
Highlights
Most gowns under £600

Unbeatable packages put together with our wedding cars
Pricing & Opening Times
Most gowns are under £600, these are all new ready to order from gowns that are not just sized but will be measured for you.

Wedding gown sale rail starting from £95

Bridesmaid Gowns - ready to order in finest satin starting from £100
Opening Times:
Monday 10 - 4.30pm
Tuesday Closed
Wednesday 10 - 4.30pm
Thursday 10 - 4.30pm
Friday 10 - 4.30pm
Saturday 10 - 4.30pm
Sunday Closed
Late appointments available upon request.
Other Information
Dress Hire:

No

Gowns Made:

Yes

Alterations:

Yes

Jewellery & Accessories:

Yes

Attendants Outfits:

Yes

Groom Outfits:

No

Hats:

No

Brands Stocked:

Victoria Kay Gowns, Verise Bridal

Wedding Day Items:
Map & Directions
Located just behind Stockton High Street on Prince Regent Street, Regency West Mall can be found in between the Arc and the High Street, with many areas for parking.
Heading up towards Wellington Square Regency West Mall is on your right hand side just before the Arc.