Croft Farm
Wheathampstead, Hertfordshire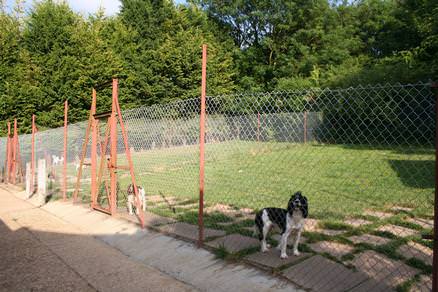 Croft Farm is set in 40 acres between Harpenden and Wheathampstead. It's an oasis of quiet beside the River Lea. Established for 25 years, we offer kind and individual care; your pets will enjoy their holiday so you can enjoy yours.
We are inspected and licensed by our local authority.
You are welcome to come and visit any morning from 9-12.
Our kennels are all indoors and heated, because dogs requirements vary so do our kennels, from cosy ones to suit toy dogs, to extra large family kennels for two or more big dogs.
All the dogs are exercised in secure grass paddocks and have the opportunity for supervised social play.
Small dogs are kennelled in separate units with 6 secure sleeping pens, they can see each other, and go out to play with the other small dogs. We find this gives even shy or less socialised little ones lots of confidence, and they really enjoy the social side of their stay!
Bouncy dogs are paired up with someone else who's keen to play, and OAP's can potter with a like minded friend. Despite our best efforts some of our customers don't play nicely, and sadly they go out to play by themselves. On an average day all the dogs get about 2 hours of outdoor play on the grass.
All the dogs are fed twice a day, and have treats at intervals throughout the day (we work by shameless bribery)
We keep a wide variety of proprietary dog foods (some 15 at the last count) including Hills, Eukanuba, James Wellbeloved, Naturediet and Chappie. We aim to change your dog's diet as little as possible, but if we don't have a suitable food we are happy to feed food supplied by you.
Medication
If your dog is on any medication we will continue to administer it according to your directions.
Beds
We provide a plastic bed and vetbed blanket for your dog, however, you may wish to bring your own blanket and toys as it's nice to have the smells of home, and we find this helps newcomers settle more quickly.
Staff
All our staff are all pet owners, we give boarders the same standard of care we would expect for our own animals.
Vaccinations
Vaccinations can be controversial, with conflicting advice, however to protect your dog we have a firm rule;
All dogs must be up to date with their regular booster vaccinations according to your vet's recommendation. We need to see the certificate at each visit.
Kennel Cough. We recommend a kennel cough vaccination.
If you decide to vaccinate this must be done at least four weeks prior to your dog's stay. We cannot accept dogs without this quarantine period.
This is because the live vaccine used can result in kennel cough symptoms, and can infect other dogs.
Unfortunately we cannot accommodate bitches in season.
Please telephone to discuss your pet's individual requirements (see contact details section below).
Highlights
Secure grass paddocks for supervised social play

caring experienced staff
Pricing & Opening Times
Opening Times:

Opening hours for delivery and collection

Weekdays
Morning 9.00-12.00
Evening 5.00 - 6.00

Weekends
Morning 9.00-12.00

Closed all day Bank Holidays

A full day's board is charged for the days of arrival and departure.
Other Information
Run:

Outdoor

Quarantine:

No

Number of Dogs:

36

Special Needs:

Various

Daily Exercise Regime:

Approx 2 hours daily, supervised social play in grass paddocks

Collection & Drop Off:

No

Grooming:

Yes
Contact This Business
Use the buttons below to contact this business: