Velocity Bikes
Portsmouth, Hampshire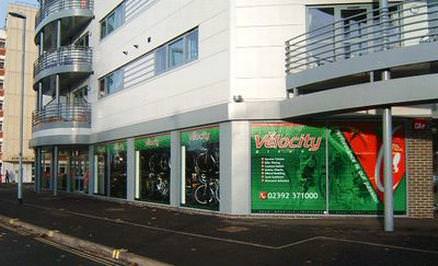 Velocity Bikes - based in Portsmouth, Hampshire is a well stocked cycle shop that offers a wide choice of road bikes, mountain bikes and cycling accessories, from clothing and components to off-the-peg and custom built bikes.
Velocity Bikes are one of a few purpose built cycle shops in the UK and with the largest workshop allowing six cycle technicians to carry out servicing, repairs and custom building.
There are many other benefits which will allow us to provide an enhanced experience for our customers.
Specialising in repairs and wheel building by some of the UK best trained cycle technicians.
We offer an extensive knowledge gathered over 60 years of combined experience in leisure or race cycling and are committed to providing you with an outstanding service and value for money with a friendly atmosphere.
Velocity Bikes are please to be able to offer benefits to our customers making sure you get the right bike product, at the ride price with the right service.
Some of Velocity Bikes offers and benefits.
We offer a FREE service with all new bikes worth £30.
Velocity Bikes Performance Cards, deliver exclusive savings, rewards and more, benefiting you every time you make purchases at Velocity Bikes...
Velocity Bikes can provide a Bike Fitting service getting you the right size bike the first time round, providing you with comfort, power and speed.
Velocity Bikes carry can carry out the most specialist repairs in its fully equipped workshop ensuring your cycle is looked after and repaired or serviced correctly the first time round.
So come in or view our website, see above, and see that "Performance is our Passion"
Highlights
Velocity Bikes

Some of Velocity Bikes offers and benefits.
Pricing & Opening Times
Service and Repair Tasks Prices
Gold Service £90.00
Silver Service £60.00
Bronze Service £30.00
Wheel Rebuilds £20.00
Spoke/True Wheel £ 9.00
Service Hub/Replace Freehub £ 9.00
Replace Cassette/Freewheel £ 5.00
Replace new Tube (Rear) £ 6.50
Replace new Tube (with drum brake/int. hub gears) £15.00
Replace new Tube (Front) £ 4.50
Replace Tyre and Tube (Front) £ 6.00
Replace Tyre and Tube (Rear) £ 8.00
Replace Chain £ 7.00
Replace Chain and Cassette (Freewheel) £15.00
Replace Chainrings (s) £15.00
Remove and replace Chainset £ 9.00
Remove and replace Bottom Bracket £15.00
Replace Gear Cables/Casing (each) £ 6.00
Replace Rear Derailleur (including Hanger alignment) £11.00
Replace Front Derailleur £ 8.50
Replace complete Transmission £30.00
Service Headset £ 9.50
Remove and fit Headset £15.00
Fit Forks (cut Stearer Tube & fit Star Nut) £20.00
Fit Caliper/Cantilever/V-Brakes (per Brake) £10.00
Re-cable Brakes (per brake) £ 6.00
Replace Brake Blocks (per Brake) including Disc Brakes £ 5.00
Fit Disc Brakes (per Brake) including Hose cutting £15.00
Service Hydraulic Disc Brakes (per Brake) £20.00
Replace Bars and Stem £20.00
Adjust Gears (re-align Gear Hanger) £15.00
Track Frame £30.00
Tap and Face Bottom Bracket Shell (without old Chainset fitted) £15.00
Tap and Face Bottom Bracket Shell (with old Chainset fitted) £25.00
Service internal Hub Gear £20.00
Fit Mudguards (full length) £20.00
Fit Computer (excluding Shimano Flighdeck/Campag Brain) £ 6.00
Replace Handlebar Tape £10.00
Small Repairs (i.e. replace pedals, inflate tyres etc) £ 5.00
Opening Times:
Monday 9.00 am to 6.00 pm
Tuesday 9.00 am to 6.00 pm
Wednesday 9.00 am to 6.00 pm
Thursday 9.00 am to 6.00 pm
Friday 9.00 am to 6.00 pm
Saturday 9.00 am to 6.00 pm
Sunday Closed
Testimonials
K2col Google Maps
"Best in Portsmouth- The only 'proper' bike shop in Portsmouth that I am aware of, Velocity is where I go for any serious workshop jobs, like headset installation and wheel tension & truing. Very knowledgeable, enthusiastic staff."

R J F Buckland (Commander Royal Navy)
Charity cycle ride from John O'Groats to Lands End in aid of help for Heroes
"On behalf of our team, may I thank you for providing superb support to our JOGLE ride. Your unselfish style sets the standard in the area and we really do appreciate the ends you went to on our behalf to ensure that we would be capable of maintaining our bikes en route. Fortunately we only suffered one puncture and the perfect weather ensured that bike cleaning was kept relatively simple!!

Many thanks also for the loan of the bike bar which ensured that transporting the bicycles was a safe and secure evolution; with hindsight we now recognise how vital this simple piece of kit was to our ride!

To date we have raised somewhere in the region of £5000 for H4H! Renewed thanks from a very grateful team."

Phil Burton
"Please pass on my thanks to Viner for producing a fantastic frame for me. I believe the service provided was on par with that only a pro cyclist would expect.

I requested a specific frame with non standard dimensions and to take into account my riding style statistics. What they have produced meets all those requirements at a surprising low weight and a very competitive cost.

It is extremely rigid giving an excellent response both on the climbs and in sprints and is superbly finished with a striking paint job. I have to admit I intended to use it as a training bike that would do the frame an injustice and I now look forward to using it to race with.

My complements must go to the bike build and set by Mike and Steve at Velocity Bikes, they have got the new position I was looking for spot on. Thanks again, all the best."

Richard Millard
"I recently had new Bontrager wheels fitted to my Cannondale, an upgrade which you suggested some time ago. The bike is a revelation. Much quicker uphill and down hill and the ride is better too (deeper rims?) as well as feeling a lot more secure. The new brakes are a great improvement on the standard Cannondale rubbish originally fitted.

Following your advice I also sanded off the bubbles to find some powdery aluminium underneath and I have painted this over in a blue that doesn't match at all, but does the job so perhaps a re-spray is the next treat for this bike.

One happy rider!"

Mike Fair
"After only three weeks from ordering the bike, it was now complete and ready for collection. To my joy not only did the bike look better than imagined, but it weight in at a mere 7kg which was an unexpected bonus at this price.

My first impression when riding was how the bike fitted me and my riding style, there was no need for any adjustments or fine tuning. That combined with the superb build quality, gave me complete confidence to put the bike through its paces. The Shimano Dura Ace groupset was smooth and precise and the Viner Epicus carbon frame felt stiff and competent but not twitchy, whilst still able to absorb the roads potholes.

My one criticism of the bike was that it did not excite or involve the rider, that is until I got onto the winding country roads then the bike took on a new dynamic. You could feel that the frame and components were all well matched making the bike rapidly respond to the road and your needs, acceleration and braking was immediate and reassuring making the riding experience exciting and professional.

To sum this bike has exceeded my expectations and this is testament to the time and effort put into each bike produced by Velocity Bikes. Their knowledge and experience produce bikes that not only perform well but look good too. My deepest thanks to Steve and all the Velocity Bikes, who made me, feel very welcome.

May I wish you all every success for the future. Many thanks."

Canon
"I've been able to spend some time on my bike over the weekend and this morning and I wanted to let you know how pleased I am. It is like riding a completely new bike - you have done a fantastic job.
Thanks very much"


Other Information
Bicycle Sales:

Yes

Bicycle Servicing:

Yes

Component Sales:

Yes

Clothing & Safety Equipment:

Yes

Specialisms:

Repairs, servicing, custom building and bike fitting.

Online Shop:

No

Brands Stocked:

Merida, Felt, Genesis, Ridgeback, Mercian, Viner, Sabbath

Children's Bikes:

Yes

Bike Hire:

No