Baby Discount Centre
Dundee, Angus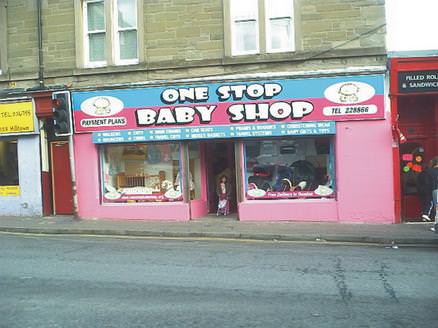 Shop Front
We are Dundee's only independently run and owned baby shop. We offer a friendly, professional service.
Advice is available for those who require it, maybe you are first time parents or just not too sure what suits your lifestyle or budget, we can help with the confusing world of babies needs.
We stock many major brands, and most things that you could possibly need for babies first months. Everything from bottles and weaning equipment to buggies, strollers, Prams and nursery furniture.
We also have a lovely range of Christening wear and christening gifts.
We stock some lovely pram sets and hand made cozy toes etc which are hard to find. These are sourced with quality and price in mind - High quality but low priced. With an ever changing and updating range you can be sure you will find what you need, but if you can't see what you are looking for, just ask!
We also offer convenient payment options to suit individuals. We accept cash, card or you can pay up larger items. Just pay a deposit and pay up at a rate that suits you!! No ridgid payment plans, no admin fees, just simply pay weekly, monthly or how ever often suits you.
We also offer FREE delivery in the Dundee area.
Think I have covered most things, but should you require any further information, we will be only to happy to help!
Highlights
Family run, so personal & friendly guaranteed!

Flexible payment options
Pictures
Shop Door
Pricing & Opening Times
We do have guidelines to work within with some manufacturers, but quite often we try and come in below the 'Recommended Retail Price'. Where manufacturers offer 'specials' We pass on these savings.

Some examples can be seen on our website (see link above), some specials, however, are limited to the shop, so we would always recommend popping in to see us so we can advise the best deals at any one time.
Opening Times:
Monday - Friday 10:00am - 4.30pm
Saturday 10:00am - 2:00pm

These times are set as we do have young children ourselves. However we are flexible and can make alternative arrangements to suit individuals. Quite often we are open well before 10:00am and rarely close on time.
Other Information
Clothes:

Yes

Shoes:

Yes

Prams / Buggies:

Yes

Babycare Supplies:

Yes

Baby Furniture:

Yes

Maternity Clothing:

No

Maternity Supplies:

No

Car Seats / Travel Systems:

Yes

Baby Changing Facilities:

No

Brands Stocked:

Obaby, Hauck, Cosatto, Britax, Graco, Tippitoes,Chicco, I'coo, Little Shield, Norton, Leebruss, Baby Lo, Baby Dan
Map & Directions
Based in Dundee's Hilltown area, we are on main bus routes.

Also accessible by foot or road, from the town come all the way up the Hilltown, and we are opposite the Kinghorn Road junction, before Hilltown, changes into Strathmartine Road, just below Main Street.

Coming from Kingsway end, come all the way down, Strathmartine Road, pass the "blue & red" multis on your right, continue on, past Main Street, right next to Shades, hairdressers, we are a Pink shop and are hard to miss!!

There is some parking available near by, but you can generally get stopped outside the shop for collections etc for short periods of time.